Your portal to PDF documents on the web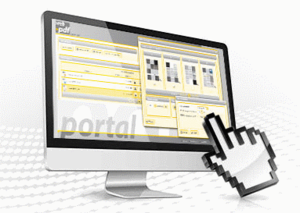 It's never been faster or easier to use your browser to create and edit PDF documents on the web!
All you need is a browser and the webPDF portal to conveniently design, generate, edit and process your PDF documents in no time at all. Whether you want to modify, sign, or archive existing documents or create and convert new files, webPDF's extensive and user-friendly range of features is within easy reach through the software's own portal.
Accessible on the internet from anywhere
All you need is a browser to access the portal and all of webPDF's features. The server that provides the portal can be on the web or on your company's intranet. You can even access the PDF features on the go using a mobile device or from home using a VPN connection to your company. Wherever you can go online you can use the webPDF portal's features. All of this powerful engine's functions can be used whenever you want and require no local installation.
The user interface lets you convert any file format to PDF without having to access the source software. You can even securely archive documents over time using the PDF/A standard. Use any connected device to sign and authorize files from any location. This portal lets you enjoy all the benefits of a centralized, server-based solution to take care of all your document related work.
No local installation means fewer admin costs
The portal requires no installation on any of your client-side equipment. Whether you're using a desktop computer, notebook, tablet or smartphone, webPDF's server-centered architecture lets you use all of the software's features from anywhere at any time. A browser and the internet are all you need to access the PDF portal whether you're at home, in the office, at your hotel, on the road or in the air.
The portal also helps reduce your company's overhead expenses. Administrators only have to manage one centralized server installation and not a myriad of local installations and updates. The central installation requires little time and effort, and users need no elaborate training to use the portal. The portal is so advanced it's actually simple. And the software you need, i. e. the browser, is already available on all the client systems.
Secure your sensitive data
The system's flexible configuration also lets you securely process sensitive documents. Just use SSL technology to integrate the portal within your intranet and your information is sure to be well protected.
The fact that the server only processes the data locally means that sensitive information will never leave your company. The software architecture lets you adapt the user portal to your security standards and measures. This makes webPDF the one standard tool you need to handle all your document tasks.