How webPDF simplifies HR processes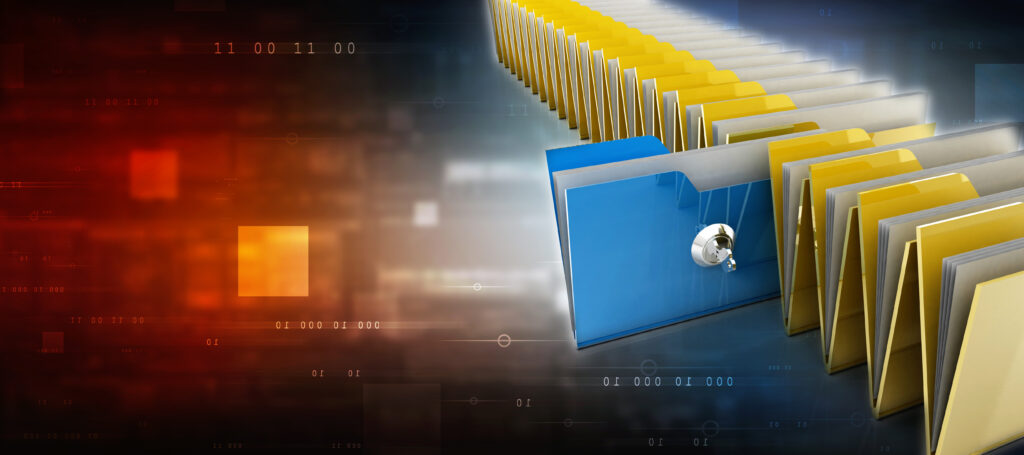 Work in the HR department is becoming increasingly challenging. One reason for this is the shortage of skilled workers, which affects virtually all industries and keeps recruiting teams on their toes. Recruiting teams are finding it increasingly difficult to attract potential employees. On the other hand, complex HR processes mean that there is simply not enough time for the strategic HR work that is so important. But how can organizations simplify their HR processes so that they have more time for strategy and relationship work?
The (partial) solution: a digital personnel file.
Why a digital personnel file?
The main purpose of the digital personnel file is to make the HR workflow within a company as efficient as possible. As part of document management, all files related to HR are stored in the electronic file, e.g. application documents, personnel interview notes, employment contracts and references. Everything is stored and managed centrally, can be accessed with one click and – if desired – linked to other areas of the company. A nice side effect is that the space previously needed for large filing cabinets or paper files can be used for other purposes.
SAP and the digital personnel file
In addition to industry-specific software solutions, there are various well-known providers who specialize in SAP business processes because this is now considered the standard for many medium-sized and larger companies. One of these well-known service providers is our partner XFT from Walldorf, with whom we have been working successfully for more than 10 years.
XFT is an SAP Silver Partner and develops software products that can be seamlessly integrated into existing SAP systems. With customized solutions, XFT also covers special requirements. In the area of human resources, XFT offers a whole range of products and enhancements that all have the same goal: Simplify processes so that there is more time for other important things in HR work.
With XFT's HR products, it is possible, for example,
Control and accelerate all HR processes
Create and manage documents centrally and also sign them digitally
Access files while on the road
Comply with all legal requirements (DSGVO-compliant)
All XFT products can be seamlessly integrated into an existing SAP system, so there is no need to change the basic system.
What else you should know about XFT
"You could say SAP is in our genes," reads the XFT website. That the service provider from Walldorf is connected through and through with SAP is pretty easy to tell after just a few lines. Not least because former SAP employees founded the software and consulting company and thus contributed their in-depth SAP knowledge right from the start. A perfect match for anyone who already works with SAP business solutions and now wants to integrate additional software for special requirements.
XFT offers products for all business areas, such as human resources, purchasing, or sales, that enable organizations to simplify their processes to save more time and money. XFT not only develops software solutions on its own, but also works with third-party providers to achieve the best possible results for its clientele. This is how webPDF from Fulda came into the picture more than 10 years ago. With the conversion solution webPDF, XFT can make the processes of its SAP customers even more convenient. webPDF is, for example, in the XFT Document Composer, with the help of which new documents can be created directly from the SAP application and with which files are automatically converted into the uniform PDF format.
webPDF as a smart conversion solution
In personnel processes, many documents are typically created, managed or archived. These can be simple personnel interview notes or entire application files that need to be converted into a uniform format.
We have already discussed the fact that a digital personnel file accelerates precisely such personnel processes. The clou of the whole thing is: Our partner XFT offers with the SAP solution for the personnel area an interface, over which webPDF can be connected very simply as a conversion solution. So smart, in fact, that the user doesn't even notice that a new software or another provider is involved.
All documents can be dragged and dropped into the file, moved around within the file, and best of all, the documents are automatically converted into a uniform PDF format so that there is no further media disruption.
Hundreds of file formats can be converted with webPDF. Splitting or joining documents is also very easy. In addition, users can rotate or delete documents and display a document preview. The latter provides a better overview, especially when a large number of documents need to be processed in personnel processes.
Long-term and secure archiving of personnel documents
Long-term and secure archiving of sensitive documents and files is also important in the HR area. In doing so, HR managers must pay particular attention to the legal regulations governing long-term archiving.
webPDF is specialized in exactly this case. Documents can be easily and securely converted to PDF/A format. A quasi-standard format for long-term storage of business documents.
Additional benefits of webPDF integration
Integrates quickly and easily into existing workflows
Can be connected to existing infrastructures
Supports all programming languages via the web services API
Dynamically scales as needed
Privacy compliant
Includes easy-to-understand documentation
Professional support guaranteed
Conclusion: Digital Personnel File with webPDF Integration Simplifies HR Processes
Lean processes in companies are worth their weight in gold because they not only simplify work, but also save resources and, above all, time. This is also the case with the digital personnel file, which creates great added value compared to analog handling: it relieves employees and also saves costs.
It makes particular sense for medium-sized and larger companies to introduce a digital personnel file, i.e. wherever many documents in different formats have to be managed in the HR area. webPDF, e.g. integrated in the XFT solution for SAP business processes, makes a significant contribution here to working with more clarity, uniform formats and secure archiving. And ultimately, the application is also a pleasure to use because it leaves more time for other important tasks.
Further links to this topic
SAP partner XFT from Walldorf builds on webPDF conversion software
Everything in sight: The webPDF preview feature for digital personnel files
Working for the future – digital personnel files at REMONDIS Maintenance & Services