RECAP: PDF Days Europe 2022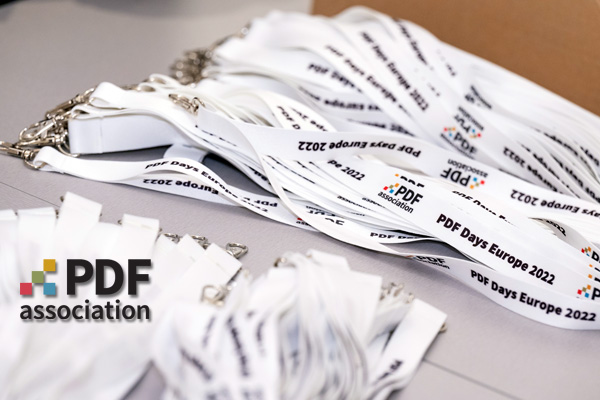 3 stages, 3 main topics, countless practical examples and valuable tips from PDF professionals – these were the PDF Days that took place in Berlin on September 12 and 1.
The conference organized by the PDF Association is the event for everyone working in the PDF environment. The aim of the PDF Days is to share experiences, transfer knowledge with many practical examples, and network with like-minded people. After a break due to Corona, this year's PDF Days were held as a live event to promote personal exchange. The PDF Association now has over 150 members in 24 countries, making it the largest global association of PDF experts.
Die Teilnehmenden konnten an beiden Tagen zwischen drei parallelen Tracks zu den Schwerpunkten Experience, Implementation und Core Technology wählen. Dabei ging es von Barrierefreiheit bis hin zu Sicherheitsfragen. Der CEO der PDF Association Duff Johnson führte zusammen mit dem PDF-Evangelisten Thomas Zellmann ins Programm ein. Allein das versprach schon, dass es zwei sehr kurzweilige Konferenz-Tage werden würden.
Experience – or how much it helps to run through specific cases using practical examples
We're all familiar with it: Presentations at conferences can sometimes get pretty tiring. But when stories are told out of the sewing box, everyone suddenly pays attention. This was the case with the first topic, which focused on practical experiences. The speakers presented real cases from their practice and explained very clearly, for example, what they have learned from the last few years for PDF/A-3-based electronic invoicing, how PDF/A conversion can be simplified, how digital signatures can be made more usable in PDF or how it is possible to provide barrier-free PDFs.
Implementation – or how to make the PDF workflow work even better
The second track focused on how PDF technology can be linked to other systems. All PDF professionals know that this is not a trivial matter. The very practical presentations on e-mail archiving, the PDF reading experience on cell phones and implementing a PDF library in Ruby, to name just a few of the session topics, were therefore very exciting.
Core Technology – or which technical refinements can make our lives easier
This series of topics was aimed primarily at PDF developers who wanted to delve even deeper into the technical world of PDFs. Highlights here were the contributions on strategies for testing PDF files or on various PDF compression and optimization techniques. The security of PDF signatures also played an important role in this track.
An additional Deep Technical Workshop was held in Berlin on September 8 and 9 under the direction of Peter Wyatt.
We joined the PDF Association in April 2022 and are impressed by the wealth of resources available on the website alone – a veritable treasure trove of PDF knowledge. With articles in newsletters and on the blog, we also contribute our knowledge there and are sure that we can still learn a lot from others. After all, the PDF environment is constantly evolving. By constantly exchanging ideas with professionals from the PDF world, we can ensure that our own PDF developments remain fit for the future.
We are already looking forward to the next PDF Days.