webPDF 8 Innovations: Webportal (Part 2)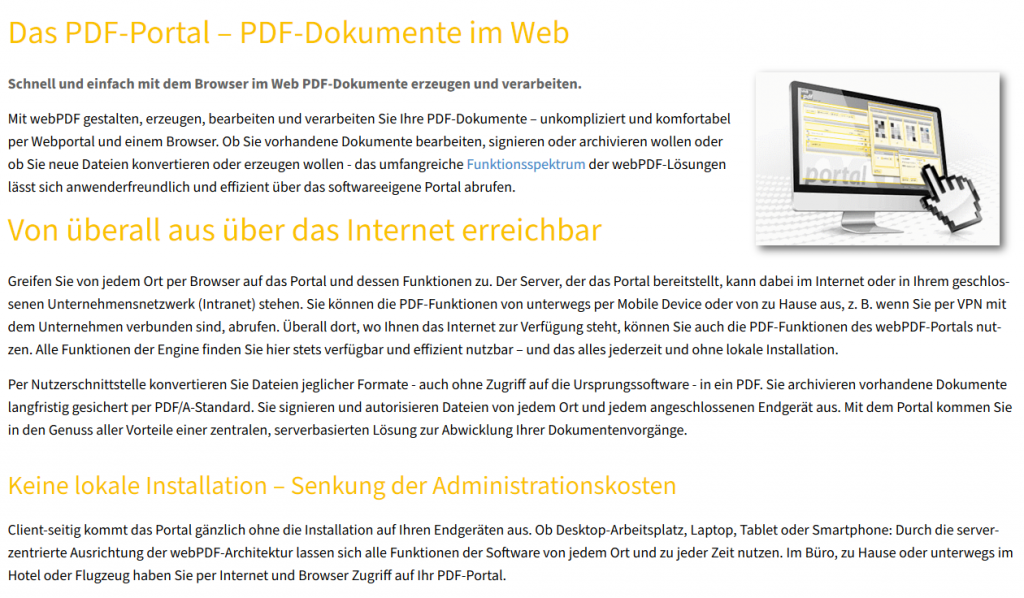 In this part 2 of webPDF 8 some new features of our new webportal will be discussed which were not mentioned in our preview. (Part 1 about installation and administration: click here).
For example, there is now a configurable news panel, i.e. a news area for the start page. In the demo installation you can see all newly published news at first glance and one click will take you directly to our webPDF Blog. You can hide the news area in your own webPDF installation in the admin portal or fill it with your own content, e.g. from your company.
Improved preview of foreign formats (e.g. e-mails)
You can use webPDF 8 in the webportal to display other formats as previews. For example, if you drag and drop an e-mail into your document manager, a preview is displayed directly. The same applies for files like Word, vcards and many more. By clicking on the document tab, you can then select the file and see the content of the document as a preview – even before the actual conversion.
Page list: Direct operations, visual moving
When selecting a multi-page document, you now have the option to display a preview list of all pages of the document on the left side by clicking "Show page miniatures". You can grab the preview images accordingly and move them visually. You can also select one or more pages here and perform a direct operation, such as rotating pages, removing pages or deleting them.
Search: Text search in the document with display of the hit list and navigation
Also new is our search function with which you can easily search through entire documents. The search results are then displayed as a list, which you can use to jump to the locations found.
Signatures: Listing and adding (at page or document level)
With the latest version, it is possible not only to remove signatures but also to add new ones (on page or document level) via the "Signature" tab. You will also get a list of all signatures with all relevant information via the "Show signatures" icon.
New editing functions
The tab "Pages" provides new functions for the webPDF 8 Portal to influence the appearance of the page. These are the four functions: Background, Header and footer, Boxes and Transition.
Add or change background
You can now change the background in any document if you wish. In the "Change background" dialog, you can also select the relevant pages and preview all changes.
Add and edit margins/page frames
By selecting Modify page boxes or Header and footer, you can customize your document according to your needs. In addition, there is the Edit page transitions function with which it is possible, for example, to create a "page turning effect".
History: Undoing of performed operation via document history
Finally, we want to mention another important new feature: By clicking on the icon "Document history" you can see all processing steps at a glance and you can also undo all operations performed there. You can thus jump to any editing status of a document and continue working on the document at this point.
Display comments/annotations
Above the "document history" icon on the right you will also find the "Show annotations" icon. Here you can see a list of all annotations with which you can easily navigate in the document.
You can find more about the webportal here on our website: