Sneak preview: The brand new webPDF-portal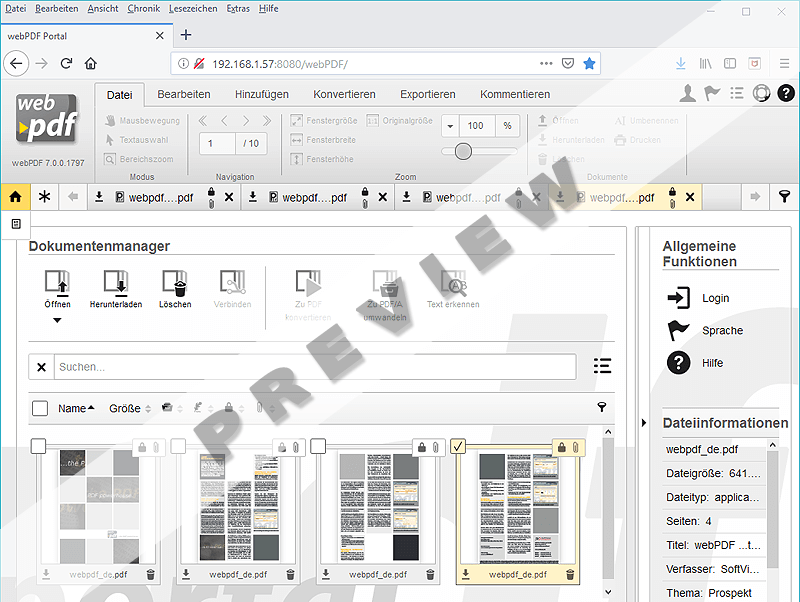 With the new webPDF version 8 our webPDF-portal gets a new look and many new functions. In the following we would like to give you an overview of the innovations and a sneak peak on all new features.
Live preview (You can select your language (English) at the top right of the Flag icon):
https://portal.webpdf.de/webPDF/
First change immediately after opening
The new, modern look of the portal catches the eye at first glance. Immediately after opening the portal, unlike with the old portal, you can see the editing functions immediately without having uploaded a document. When calling the portal, one is now received with a start page together with the new document-manager. With the new document-manager we have a simple and fast possibility to open and manage several documents at the same time. Depending on your preference, the uploaded documents can also be displayed as a list or with a preview.
Focus on usability and efficiency
In the new webPDF-Portal 8, the above tabs file, edit, add, convert, export and comment also provide a very good overview. In addition, you can select with a single click whether you want the document to be converted to PDF or PDF/A immediately after opening, or whether you want text recognition to be applied when opening it. This allows you to bundle work steps here.
More overview and quick changes with the new document-manager
With the new document-manager you can now:
upload multiple files and convert directly to PDF in one step
switch between several opened documents via the tabs
automatically perform text recognition and/or PDF/A creation during document conversion.
perform operations on multiple documents simultaneously
The new document preview
In the detailed view of the individual PDF documents, there is now a comment list which provides an overview of all comments contained in the document. With a click you can jump directly to these comments to find them in the document.
The handling of embedded content has also been enhanced. For both document attachments and PDF Portfolios, there is now a special preview function for easier access and better visualization.
More important, new functions and dialogs
with the new history, all operations performed per document are stored and can be quickly and easily reversed or returned to a specific processing status.
the page-frame dialog offers the possibility to customize the different frames of a PDF that are needed for professional printing.
also headers and footers can now be created and customized. This can be used to insert page numbers or data per page.
page transitions such as fade, insert or turn can now also be set.
both text and color backgrounds can be stored for PDFs and bookmarks can also be created and deleted.
the administration area now offers a better overview. At a glance you can see the status of the webservices and all important system information.
in addition, it is now also possible to blacken parts of a document with the Sanitize operation. This allows you to selectively remove superfluous or private information. This could be metadata, hidden layers, form data, comments or scripts.