PDF Days Europe 2021 in Berlin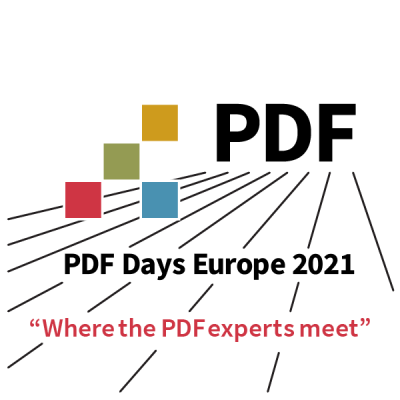 Preparations are on in full-swing: PDF Days Europe will take place in September 2021. This is the best-known and largest event on the subject of PDF technology, and this year offers the opportunity to be part of it both online and directly on site in Berlin.
The agenda this year will again offer a very good mix of high quality presentations, training and networking opportunities. All presentations will also be streamed live to provide a good online experience as well. Thus, attendees are especially flexible this year as it is a hybrid event (online + possibility to be on-site in person).
Safety concept due to Covid-19
The event was optimally adapted to the circumstances in cooperation with the venue and offers a comprehensive protection concept. The so-called 3G concept, i.e. "Tested – Vaccinated – Recovered", ensures that only recovered, vaccinated or tested persons have access to the event area. This applies not only to participants, but also to all staff and speakers.
Both the organiser (PDF Association e.V.) and the venue (Steglitz International Hotel (SI Hotel) and Berlin security ensure that all current COVID regulations are implemented.
The Agenda 2021
This year's programme is really something to behold: On the one hand, you can expect high-quality presentations on the world's most popular digital document format, PDF, but also various networking opportunities, which have not been so readily available recently.
The so-called "Technical Days" will take place on 27 and 28 September 2021 and are primarily intended to appeal to developers, integrators and other interested parties. The "Solution Day" on 29 September 2021 is then tailored to users.
What awaits the participants?
The introduction will be given by CEO Duff Johnson. Overall, there will be detailed information about the initiatives of the PDF Association in the past year and plans for the future. True to the motto "PDF experts come together", the event focuses on information about PDF technology. The uniqueness of the PDF Days is that this is the complete focus here and the entire breadth of the application possibilities of PDF is appreciated. In addition, the Technical Days sessions are explicitly vendor-neutral and without product mentions.
PDF Days 2021 – Overview of the topics of the presentations
Create PDFs using HTML: How to use HTML to generated PDF documents
How to make e-Signing interoperable: Getting rid of proprietary data and closed workflows
PDF/A Conversion and Validation Challenges
Validating digital signatures in PDF: About user experiences and pitfalls
Two Standards. One Goal. Modernizing Print Communication Production: PDF+JDF=ADF! Explore the possibilities when you modernize with automation, PDF features and JDF/JMF connections
Cryptography in PDF: future perspectives
STOP PRESS! Or how to avoid it! How do you streamline problem PDFs into the print workflow
Content Authenticity and PDF: Support of PDF as part of the Coalition for Content Provenance and Authenticity
Archiving email – as PDF? The current state of discussions and developments in the field of interoperable email archival
SafeDocs – towards a more secure future: Securing file formats through provable techniques
A work-in-progress: PDF/R revisions and new, highly compressed image format
Making sense of PDF structures in the wild at scale
WCAG or PDF/UA: what's the difference
The Low Code Revolution and PDF: What does it mean for PDF Developers and PDF Technology Companies?
Accessible PDF – How to tag content the right way: Finding appropriate Tags for content
Future of Traversing PDF Files: SELECT future FROM pdf.*;
What makes a tagged PDF a proper tagged PDF/UA document? Let us show you how the Matterhorn Protocol helps to generate a PDF/UA compliant document
OpenType color fonts in PDF: Implementing emoji and other colored symbols in PDF
Lessons from implementing a PDF/UA-centric mobile reader: What we've learned while making a better mobile experience
3DPDFs + the future
Content accessibility for all screen sizes
The Arlington PDF Model: A specification-derived, machine-readable definition of PDF
Deriving HTML from PDF – lessons learned
Survey of open source PDF solutions
The lectures are in English.
Detailed information on each programme item can be found here:
Source: