Archiving and migration projects with webPDF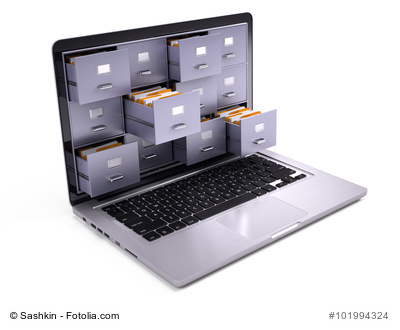 There is currently a need to carry out a wide variety of archiving projects for many customers. This is due to the fact that every company must archive its e-mails and other data in a legally compliant manner. In addition, existing archives often have to be standardized.
For these projects, companies and also IT departments often need consulting support or software that can be used to carry out professional and legally compliant e-mail archiving. With our software webPDF, we have been supporting projects concerning long-term archiving, migration and e-mail archiving for many years, so that we have built up a wealth of experience in this field.
Legally compliant e-mail archiving in companies
E-mail archiving is the long-term, unalterable and secure storage of electronic messages. For companies, legally compliant e-mail archiving means that not only invoices but also a great deal of other data must be archived for tax reasons. The GoBD is decisive here. All business processes must be archived. This also includes all business-relevant e-mails. The importance of e-mail archiving has been further increased by the sharp rise in sales of processes via electronic invoicing. Here, it is not enough to simply print out e-mails. After the GoBD, the originals must be kept, including the original e-mail. This applies to all companies. Here it should be noted that a backup is not the same as an archive. More about e-mail archiving…
All companies, no matter whether they rely completely or partially on a digital office, will sooner or later have to deal with how they want to implement e-mail archiving and data archiving. We recommend that you create a PDF archive for the long-term storage of e-mails and documents, as PDF or PDF/A format is ideal for meeting the legal requirements for a data archive.
Use Tiff format or PDF for archiving?
The Tiff documents, which were frequently used in the past, are no longer recommended for this purpose. PDF/A has therefore become the standard format for companies to implement legally compliant archiving, even without being mandatory. PDF documents are generally more secure, smaller and more cost-effective than Tiff files. The Tagged Interchange File Format is an important file format for graphics that are to be compressed without loss. The format provides very good quality, but has a relatively large file size. It is mainly used where high-resolution printing is required. If, on the other hand, you want to carry out long-term archiving or e-mail archiving in a legally compliant manner and have a relatively large volume of documents, you will quickly reach your limits when using the Tiff format. Here the PDF or PDF/A format has established itself.
Advantages of webPDF for a PDF archive
When it comes to the long-term archiving of business e-mails and documents, the problem arises that in the case of a large flood of data, all existing data in a wide variety of formats must be standardized. At this point webPDF can be used to create a PDF archive. With the central webPDF server you have the possibility to convert more than 100 file formats into PDF/A and check them for conformity. You do not need the original application. In the case of an e-mail archive, all e-mails are automatically converted into PDF or PDF/A and are then available for a legally compliant archive. With our PDF solution webPDF, we have often carried out successful archiving projects in the past, as our case study of the Techniker Krankenkasse shows:
Many of our customers already have business solutions, business applications or business software in which webPDF and also webPDF Web Services can be integrated comfortably and without any problems. If you are using HCL Notes Domino, we have the right solution for you: More about data archiving with Notes…
With webPDF you have a tool at hand with which you can prepare your data stocks for the digital archive, no matter if you already have an archive in use, want to merge several archives or want to build an archive from scratch. We are the right contact for all questions regarding e-mail archives or long-term archives.