Announcing webPDF 6.0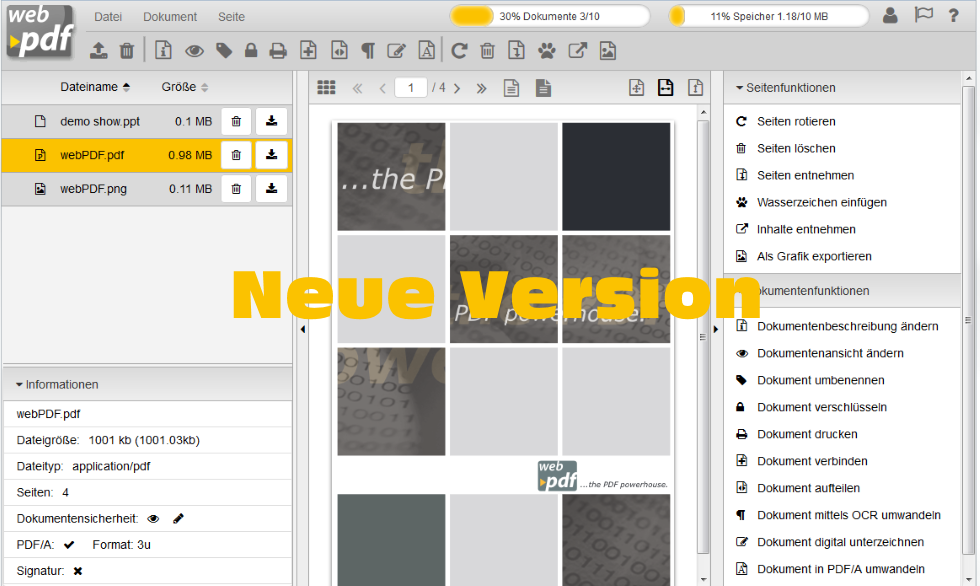 The latest version of webPDF has hit the market! This powerful software solution is now available as the new webPDF 6.0 edition. The hottest and latest features include a newly conceived web portal along with detailed improvements in PDF functionality. We gave the web portal's user interface a fresh makeover with responsive design that puts an even greater focus on clarity and ease of reading, along with a more intuitive user experience. The server itself also provides a number of key enhancements, such as the new RESTful API.
Here's what's new in version 6.0:
PDF preview and a simple and convenient drag and drop function
Improved server administration (for much greater adaptability)
User authentication can connect to such external sources as LDAP/Active Directory (AD) or an SQL database
Web services now also available as RESTful API
Supports LibreOffice Impress, Calc, Writer 4.x and higher, Autocad 2013, and Visio 2010
Enhanced PDF/A converter (e.g. embedding of ZUGFeRD XML data)
Lets you control the embedding or removal of e-mail attachments during the PDF conversion process
Watermarks can be added
Can create documents using OCR conversion (such as from scans and faxes)
Try it out!
Check out our free online demo version of the webPDF 6.0 portal and see for yourself all the remarkable features it has to offer!
webPDF 6.0 portal demo version