webPDF Version 7.0 is here!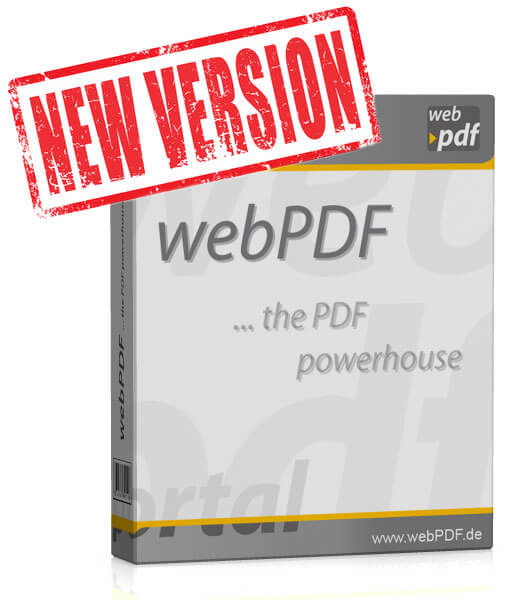 The industry's best platform-independent PDF server has just gotten better. Newly released Version 7 offers a number of long-awaited features, including the new "Barcode" web service and the introduction of bridges for directly converting documents with Microsoft Office. You'll also be delighted with the completely revised portal whose look and intuitive user guidance, not to mention performance and features, have been taken to an entirely new level. Even the server's API now has more features thanks to the new SOAP and REST web service endpoints with enhanced parameters. This greatly extended API gives developers an even simpler and more flexible ways of connecting webPDF to both new and legacy systems.
What's new in Version 7.0?
In addition to conversion using the integrated Outside In converter, webPDF Version 7 also lets you integrate Microsoft SharePoint and Office (Versions 2010 and later). The connection is made using either Word Automation Service (WAS) from SharePoint or the OLE Automation for Microsoft Office. In this way, webPDF gives you the highest possible quality that can be achieved when converting Word, Excel and PowerPoint files.
The new "Barcode" web service lets you recognize and generate such common two- and three-dimensional barcode formats as Aztec, EAN 13, EAN 8, PDF 417 and QR code. This web service is capable of reading all the barcodes contained within a defined range and placing them on whatever pages you choose. This enables you to access barcodes directly from your system and affix them to your correspondence. Doing so not only vastly simplifies the dispatch process, but also lets you link your shipping data with your order data.
Many new features have also been added to the newly designed web portal with its integrated PDF preview and even more convenient drag and drop function. Adding comments, highlighting texts (annotations) and explicitly placing watermarks, barcodes or electronic signatures are just a few of the things you can now easily do. What's more, the ability to add and remove file attachments in PDF files has also been included within the portal.
New SOAP and REST endpoints have been integrated for the web services, which are now based on XML Schema Definition (XSD). XSD is used uniformly for all endpoints and allows the transfer of data to the endpoints as XML or JSOn data structures.
Here is an overview of the new features in Version 7 and a sampling of some of the screenshots from the new webPDF portal.
Try webPDF 7.0 for free!
Care to try out the new version yourself?
No problem. Just go to the webPDF Download section where you can test the Windows or Linux versions of webPDF.
Besides Windows and Linux, this section also offers you webPDF in the form of a virtual machine (VM) that puts webPDF at your fingertips within your virtual environment in fewer than 5 minutes!
And best of all, you can experience webPDF without having to worry about doing any installation or configuring.