webPDF meets tools 2015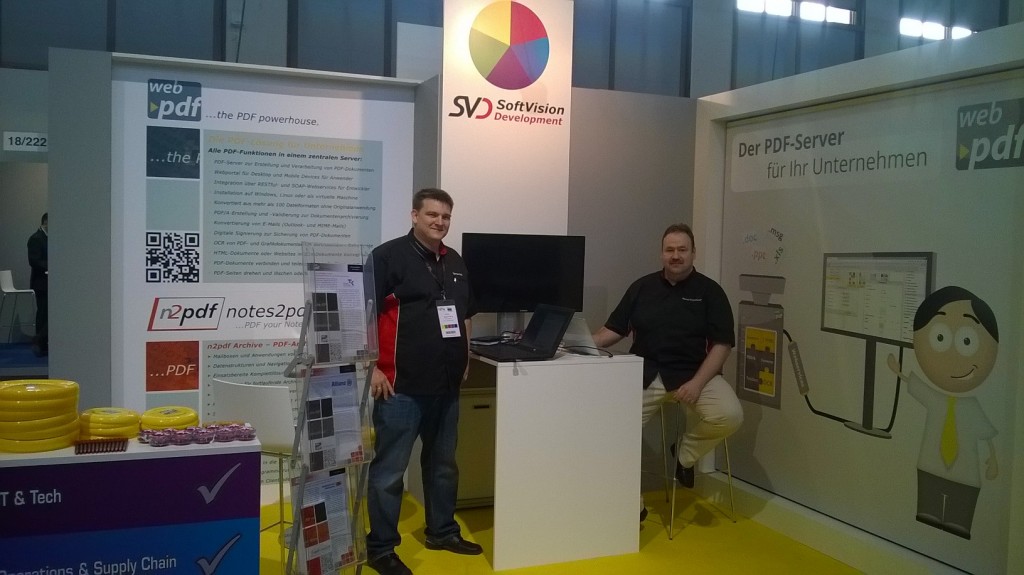 SoftVision an exhibitor at tools in Berlin
tools – the exposition and conference all about the intelligent digital transformation of business processes – was held at the Berlin ExpoCenter City from 16 to 17 June 2015. SoftVision Development GmbH was there at Stand 224 with three of its staff introducing visitors to its centralized and professional PDF solution for enterprises called webPDF together with the product's new web portal.
tools at a glance
Building on "working web-based" as its dominant theme, tools provided important insights into a wide range of new products and technologies from shop systems to mobile apps. The exhibition's main stage was also used to showcase web-based solutions that companies are using successfully to solve those typical kinds of problems they encounter in real life. Besides a separate area where visitors were invited to take part in workshops where they could try out various new tools, there was also a VIP program that brought together selected exhibitors and decision-makers in exclusive surroundings.
Altogether some 1250 visitors and 75 businesses, including such notable companies as SAP, Salesforce and Sugar CRM, participated in the expo and conference.
webPDF – a web-based solution for optimizing enterprise processes
Large numbers of businesses face the challenge of having to manage a flood of daily e-mails with their countless attachments in every imaginable format. Opening and editing all these files would require using a myriad of software programs, which in turn means first having to buy and maintain them all. This kind of approach is far too expensive and time consuming. One way of perfecting this process is to reduce the number of file formats to a single format that is widely used and capable of rendering most content – PDF being an excellent example.
This is exactly where our webPDF product we featured at tools comes in. webPDF provides a central server you can access through the PDF portal on your browser and on which you can easily and conveniently generate and edit PDF files. The portal also gives you access to all of webPDF's web services and lets you not only convert foreign formats to PDF, but also do such things as extract texts and images from a document, do optical character recognition (OCR) of texts in images, and create a PDF archive for long-term storage and preservation. SOAP and RESTful web services provide convenient interfaces that allow it to be easily integrated in other programs.
This event marked the first time that our new webPDF web portal was shown in public. The portal has been optimized particularly in terms of usability and, thanks to its new responsive design, now also supports mobile devices.
Our impression of tools 2015
The exposition was organized and run very smoothly. We'd like to again thank the expo team for providing quick and uncomplicated support and assistance in response to the various questions and requests we made of them during the exhibition. We believe that the subjects this expo and conference handled got right to the heart of what's on businesses' minds today, and that tools has the potential of becoming an established and highly regarded event that will occupy a permanent spot in our operational calendar.