Video: How can I convert emails to PDF?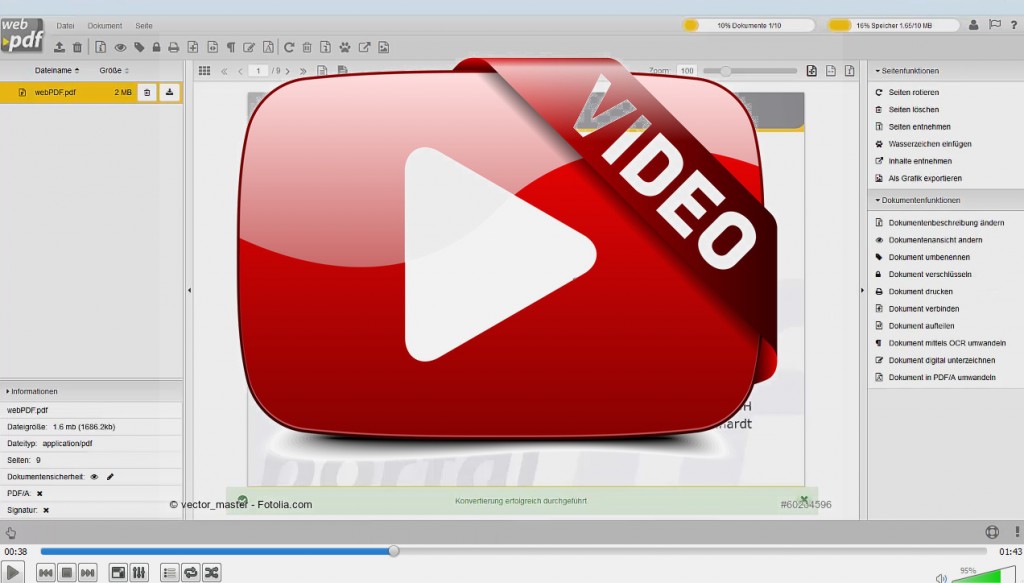 In this video tutorial you can see how to convert e-mails in Outlook (MSG) or MIME (EML) format to PDF using webPDF. Text formatting and graphic elements are retained. You can convert your emails into a PDF so that the message is displayed exactly as the email client displays it.
Watch the video to see how we convert an email document with an attachment. After uploading the e-mail and clicking on "Convert document", we select the desired format (in this case PDF/A-3b). In addition, we select the setting "Convert to PDF with attachments" and finally receive the converted document:
Why convert e-mails to PDF?
It makes sense to convert e-mails into PDF format if you want to perform proper e-mail archiving. The PDF format is ideally suited for this because the documents can no longer be changed afterwards and can be displayed independently of the respective system.
Archiving e-mails is necessary in every company, because (in germany) one has to fulfil certain legal requirements and in addition it is always helpful for later work steps/requests to keep e-mails and the appropriate documents. And you should be able to find the documents as soon as possible. So for every company there is the necessity to organize and archive the e-mail communication.
In the best case, e-mail archiving should take place automatically so that time is saved and no errors creep in. In addition, storage costs should be kept as low as possible. Conclusion: Revision-proof archiving in PDF/A file format is the best way to transfer e-mails and attachments to a long-term archive.
Professional e-mail management with long-term archiving
When converting emails, PDF/A-compliant formats should be used so that you can securely archive your emails. If you want your electronic mail (i.e. all internal and external e-mails) to be processed in an all-round solution, these advantages of webPDF are convincing:
With webPDF you can easily and conveniently save mails automatically as PDF and save the e-mail with attachment as PDF.
The conversion of e-mails is possible in almost all common formats
Central, server-side control of conversion and formatting processes
All formatting and embedded graphics can be converted to PDF format
If archive systems already exist, the direct PDF/A conversion enables an immediate connection to them.
During the conversion it does not matter whether the e-mails are HTML or RTF formatted. webPDF converts HTML e-mails (incl. CSS) as well as RTF or unformatted ("plain") e-mails.