E-Health law boosts digitization in healthcare sector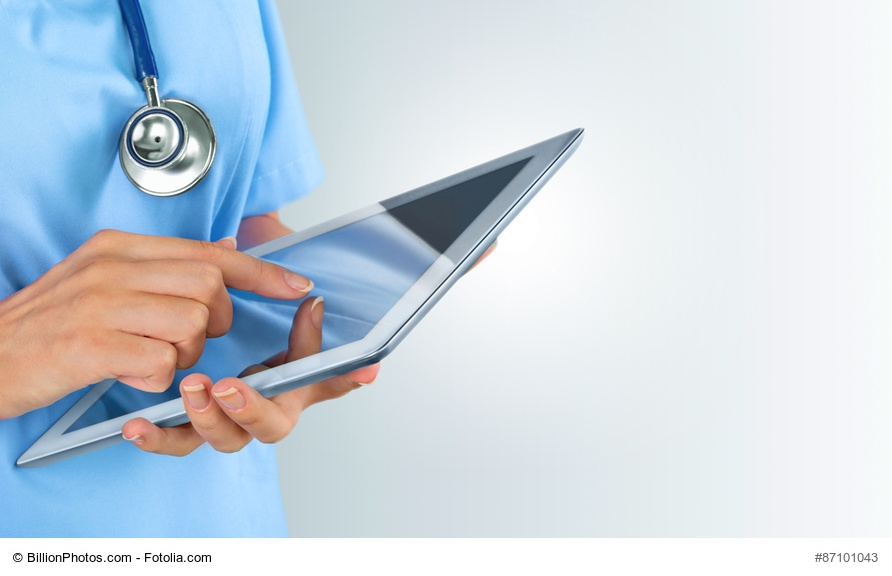 Digitalization is not only changing the way we work, it has also "infected" government agencies and the healthcare system. The attitude, not only among the younger generation, has gradually changed and more and more people today can imagine doing without paper-based workflows in the healthcare sector.
For 15 years, Germany has been tinkering with the telematics infrastructure and the implementation of the electronic health card. But the matter has accelerated since the E-Health Law came into force in 2016. There is a general change in thinking. In the meantime, there are already countless health apps, online health insurance companies and online pharmacies. In the banking business, for example, it has long been common practice to work with online banking and apps. More and more people are now seeing and accepting the benefits of digitisation. Anyone who already conducts their banking business exclusively online is quicker to switch to digital technologies, even when it comes to procedures at the family doctor's or with the health insurance company.
Recently, in 2017 and 2018, there have been a number of important small innovations in germany that are driving digitalization in the healthcare sector. These innovations include the E-Health Law as well as changes concerning telemedicine and the ordering of medicines via online pharmacies.
What is the E-Health Law?
The (german) e-health law now allows telemedicine with certain requirements. Certain aspects can now be viewed by the doctor via video/image. A video consultation hour can then be used for consultation. This also benefits patients with walking disabilities or people in regions with poor medical care. In addition now the acceptance comes for online health insurance companies and on-line pharmacies. It is now possible to order one's medication online; this also applies to prescription medication, which can now also be obtained from foreign mail-order pharmacies.
What is E-health?
The term e-health brings together the disciplines of medicine, IT and health management. In the health sector, information and communication technology (ICT) is now used (as in almost every company) to digitise processes. This also involves the treatment or care of patients with all associated processes. This is generally referred to as e-health. Since December 2015, there has been the E-Health Law, which regulates the timetable for the required infrastructure and for the introduction of medical applications. The aim is to advance digitisation in the healthcare sector and there are now requirements to be met by a certain point in time.
What does e-health involve (in germany)?
electronic health card
electronic health record / electronic patient file
electronically supported disease and knowledge management
telemedicine services
health portals (including senior care, assisted living, data monitoring with apps and activity trackers)
online pharmacies
Current status 2018/2019:
The ePA, i.e. an electronic patient file, is currently being used to document the patient's medical history. There is now the e-health law, which states that health insurance companies should provide their insured with an ePA by 2021. The most important regulation of the law: The use is initially voluntary + the patient decides what is stored in the patient files. In addition to the ePA, there is also the eGA. This is the electronic health record (german elektronische Gesundheitsakte). Here doctors, pharmacies and nursing homes can quickly access patient data (if they have given their consent). Additional information such as diets, physiotherapy, etc. can also be stored here. In addition, some health insurance companies (Techniker Krankenkasse, but also the AOK) had previously presented their own concepts for an electronic health record.
Digitalisation in the health sector – advantages and disadvantages
The advantages of electronic patient files and a digital workflow in doctors' surgeries, hospitals, pharmacies and pharmaceutical companies are obvious. But as always, there are two sides to the coin. Digitalization holds both opportunities and risks:
| | |
| --- | --- |
| Data is quickly available and quickly transferred to others, information exchange and communication becomes more efficient and faster | Many doctors reject the electronic medical record and prefer to trust its written form. They are afraid that the digital switchover will lead to more work for them. |
| In an emergency, doctors in the hospital are quickly informed | Since patients decide which data to store, no doctor can be confident that a complete judgement can be made from this health data. |
| The patient can store and manage documents himself and thus receive more information. | Wherever data is entered and stored, errors can occur, leading to false medical conclusions and false diagnoses. |
| Health insurance companies save money if the processes can be handled purely electronically | The German Medical Association (BÄK: Bundesärztekammer) demands strict data protection requirements |
| Statistics can be generated from collected health data to predict probabilities for illnesses and start preventive measures in time. | There is a risk that sensitive data may be misused for other purposes. |
| In the health sector, there is evidence that many costs can be saved by switching to digital technologies | Data protection and medical confidentiality could be at risk |
| Double ordinances and supply gaps or interactions of medicines should be avoided | Critics fear risk of data loss or cyber attacks |
| Improvement of health care through telemedicine and online services, support for general practitioners | The switch to a digital workflow only makes sense if patients and practices have appropriate (uniform and secure) access options – in addition, there is a solution for permanent data storage that has been lacking until now (consistent and uniform digital health strategy has been lacking until now). |
To sum up: The greatest advantage lies in the cost savings on the one hand and the improvement of preventive health care for patients on the other. According to a McKinsey study in 2018, millions can be saved through consistent digitalization in the healthcare sector. Digital technologies can save a great deal of time and money with electronic patient files, electronic prescriptions and telemedicine. Most of this can be saved by making paperless and fast data processing possible. Ultimately, patients as well as doctors and clinics can benefit from the smooth, fast process.
But the process is both a curse and a blessing. It also brings with it risks. There are some seemingly insurmountable hurdles to implementing digitization in the healthcare sector.
Why has digitisation not been implemented uniformly so far?
Similar to the implementation of a paperless office, it is often not so easy to introduce new digital technologies due to outdated technology, training needs of employees or adherence to old structures. Digitalisation is confronted with outdated technology and data protection hurdles. Especially and above all in the healthcare sector. Many people shy away from the step towards a digital workflow because they prefer working with paper. Some critics doubt that they really have less work as a result of digitalisation and assume more effort in the end.
Compared with other countries in Europe, Germany has quite a lot of catching up to do. It must certainly be noted here that implementation of digital technologies will only be possible if both patients and all health care institutions have access to them. This applies both to the relevant equipment and to the software and know-how required to operate it. The biggest hurdle for the implementation is that one needs a uniform system throughout Germany and for all health facilities. Until now, different systems and specifications have still been used for data storage by health insurance companies, doctors and hospitals.
What formats are available for data storage in the e-health sector?
The focus should always be on the data: Better patient care – This means that digitalization should accelerate processes and have added value for doctors and patients. There should be a uniform timetable for implementation and a uniform, consistent and secure implementation of data storage. Here one could name the data format PDF/A-3 (or PDF/H), which would be ideally suited for secure and legally compliant long-term storage. The data should all be fed into an archive. This electronic storage, the long-term archive should be searchable and contain the data in compressed and uniform form. PDF/A or the PDF/H format specially developed for healthcare is suitable for this purpose.
PDF/H = Portable Document for Healthcare
The PDF/H format has been available since 2008 and is intended as a data format for the health sector. It shall be the standard for input, display and exchange of medical data. The PDF/H data format is ideal for exchanging medical information between patients and doctors. It is suitable for all findings of imaging diagnostics (examples: Laboratory reports, X-ray and CT images, forms, ECG and EEG information and much more), as the format works with containers for these contents. PDF/H is not an ISO standard, but only a recommendation.
In general, PDF/H makes it particularly convenient to store patient data. The data is then available in a consistent form and cannot be changed subsequently (depending on the security setting). A further advantage is that digital signatures, barcodes or OCR technology can also be used here (with appropriate software such as webPDF). This facilitates not only security but also the quick retrieval of documents. Both are undisputedly the most important factors in long-term archiving.
Further reading tips on the subject: