Universal accessibility – more than inclusion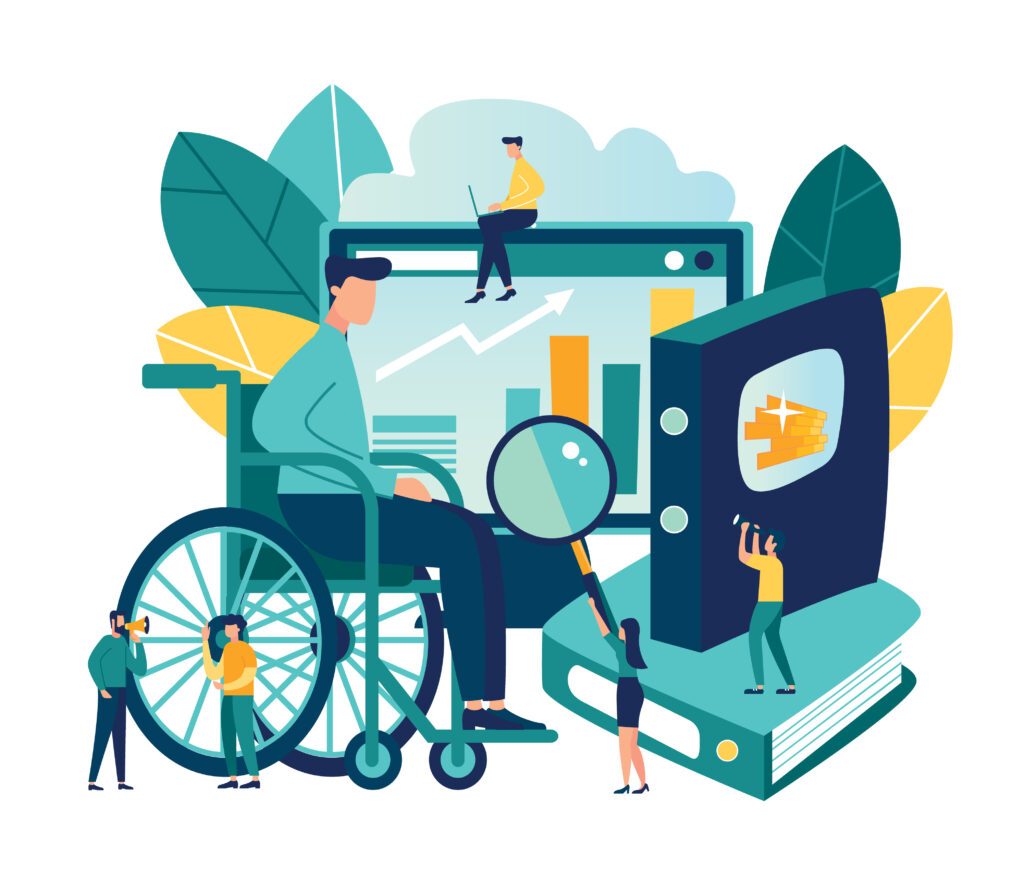 Many further questions arise with regard to the topic of accessibility and digitization. At the beginning of the year, the PDF Association published an interesting approach to this on their website pdfa.org. It dealt with the topic of accessible communication. This is a not insignificant topic, also with regard to website design and document formats. Because public authorities and some organizations are obliged by EU directives to design their communication accessible. This means they must make all content (paper and electronic documents, websites and apps) universally accessible and understandable.
But accessible communication is a complex issue. Content must be created and made available as intelligently as possible, including understandable language, correct syntax and multilingual offerings.
Accessibility also means multi-channel capability
Multi-channel or omnichannel communication means that the content of websites and documents must be accessible and readable from different media. An example of this would be a document that on the one hand can be read and signed on a smartphone, at the same time can be sent by mail, and can also be read aloud by a screen reader so that it is also available to the visually impaired. This would be understood as universal accessibility. On the one hand, the documents should be tagged, provided with structural information, and on the other hand, they must be multi-channel capable and created with responsive design.
However, given Big Data, artificial intelligence (AI) and other current technologies, true, digital transformation naturally means collecting data and using actionable data. The ultimate goal is not only the availability of the document itself, but also of the data it contains. This has long been an issue, especially in marketing and sales. Here, for example, more and more detailed information is required in order to be able to target customers (automatic, selective campaigns).
This is an important aspect, which shows that it is also a matter of providing all documents that are published with meaningful data.
The most important point here is that one should not be content with just making archived documents readable. The data should be upgraded accordingly. Many companies shy away from the effort of subsequently indexing existing documents. Yet it is precisely the data that is particularly valuable. Data can be very valuable – because only with data do you have a basis on which digital technologies can develop their full potential.
In the article by Carsten Luedtge, the PDF Association uses Google as an example:
The company uses its new Dataset Search engine to bundle the countless providers of scientific datasets on the web to make research easier for scientists, journalists and students. Behind it lies the phenomenon of the "semantic web." It's about having available not only the text itself but the content as data that can be automatically correlated. (…) Only then is ongoing information research over multiple levels possible. Instead of manually searching through a document for a specific piece of information, the web readily provides the answer. These are not just simple search results but complex results that can only be generated by linking different data.
The conclusion of the article is that topics such as semantic web or barrier-free communication are currently moving more and more into focus. For example, the University of Hildesheim (near Hanover in Germany) now offers courses in accessible communication. Companies should generally rethink the topic of document creation.
The new approach: Documents are data sources that provide companies with the raw material to tap into new markets. The needed technologies are available. In the meantime there are enough applications and IT solutions that support intelligent document production.