PDF – the all-purpose format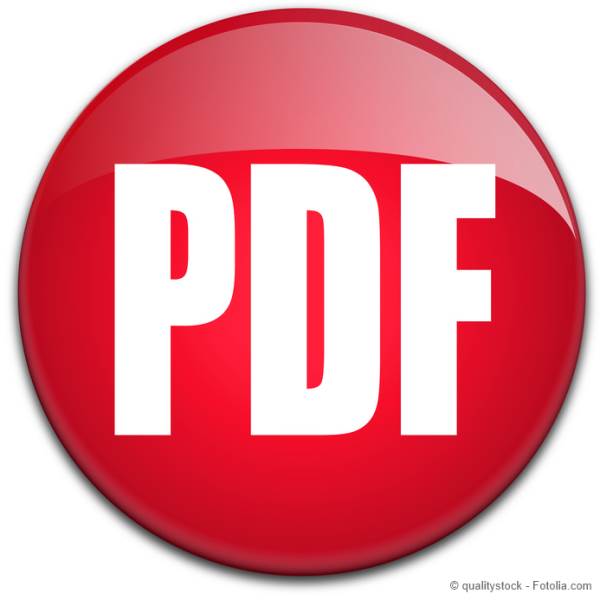 PDF is celebrating its 20th anniversary this year!
Just the occasion to take a closer look at what PDF is all about. Who developed it and for whom? What sort of different PDF versions are there? Find the answers to these questions and more below.
The Portable Document Format, better known simply as PDF, is a universal file format developed to standardize and share electronic documents. PDF was invented by the American software company Adobe Systems in 1993 and perfected with the intent of establishing a format that reproduces electronic documents for readers exactly the way the authors created them – independent of the environment in which the originals were created, and the operating systems and devices used to view them. PDF is probably the most widely used file format in the world today and has been a recognized ISO standard since 1 July 2008. A major reason for this the fact that the Adobe Reader has been available to users free of charge since 1994.
With the appropriate software – either from Adobe itself or one of many other providers – you can convert a document from its source program into a PDF file, including all of its texts, images and graphics. And because this is a platform-independent format, you can open PDFs on a device using any operating system without encountering such notorious conversion problems as the wrong fonts or misplaced graphics. Designed as a straight exchange format, the editing functions of the basic edition are mostly limited to making annotations and comments – an inconvenience to be accepted in the interest of protecting the files against tampering.
Besides the more familiar basic PDF format there are a number of subsets that are used for specific purposes, the best-known ones being PDF/A and PDF/X. The first such subset is ideal for the long-term archiving of electronic documents by reason of its manufacturer independence and ability to render exact reproduction over time, and has been an ISO standard since September 2005. With it, files are completely self-contained since all of the elements needed to render the contents are embedded within the content and thus unalterably integrated in the file itself. The PDF/X format, on the other hand, facilitates prepress digital data exchange with respect to transmitting camera-ready copy, and has been formalized as an ISO standard since 2001.
There is no foreseeable end to the relevance of this format. Besides conversion speed and size of files it can accommodate, PDF's greatest potential for optimization lies in mobile usage on smartphones and tablets and interoperability with online storage systems and web browsers. It looks as though PDF will be celebrating its birthday every ten years for a long time to come.