PDF Days 2022 – Outlook Topic Block 3: Technology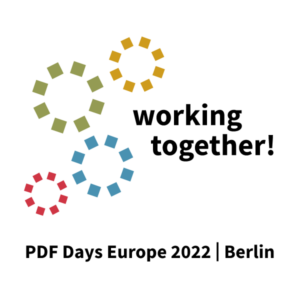 Here you will find an overview of the planned upcoming contributions at the PDF Days 2022 in Berlin, which are organised by the PDF Association.
The workshops and presentations at the event have already been divided into three thematic blocks in preparation. This means that visitors can easily find their way around and select the appropriate topics.
This year, the three thematic blocks are: practical experience, implementation and technology
Here you will find all the contributions that are currently planned for the technology area. This series of topics is aimed primarily at PDF developers and all those who would like to delve a little deeper into technology. In addition to accessibility, PDF forms and signatures, strategies for testing or PDF compression and optimisation techniques will be discussed. This topic block is also characterised by practical examples and is intended to show how typical problems or errors arise and can also be solved.
Block 3: Technology
Note: The lectures will be held in English
Everything about the schedule and registration can be found here: https://www.pdfa.org/announcing-the-pdf-days-europe-2022-agenda/
The complete event schedule can be found here: https://www.pdfa.org/agenda/pdf-days-europe-2022/
Would you like to take a deeper technical dive into PDF technology? Find out more about the Technical Workshop 2022 here:
More on the Deep Technical Workshop with Peter Wyatt
Led by ISO 32000 Project Leader, PDF Association CTO and DARPA SafeDocs Principal Investigator Peter Wyatt, the PDF Association's Deep Technical Workshop offers a unique opportunity for library and application developers, computer scientists and technology researchers to engage in in-depth discussions with the independent PDF technology expert who developed the Arlington PDF Model, manages errata for the PDF specification and plays a number of key roles in shaping the future of the PDF format.
The Deep Technical Workshop will take place in Berlin on 8 and 9 September. The venue is the same hotel as PDF Days Europe 2022 on the following Monday and Tuesday, 12 and 13 September.
The Deep Technical Workshop is aimed at software developers, software team leaders, technical support staff and other experts responsible for PDF software technologies. Existing knowledge of PDF specifications is required, as is experience in developing PDF parsers, renderers, viewers or PDF writers. Basic programming skills and the use of command line programs are assumed. Participants should bring their laptops to create and explore PDFs and familiarise themselves with the information, resources and tools presented.
https://www.pdfa.org/agenda/pdf-days-europe-2022-deep-technical-workshop/
Click here for topic block 1 – Practical experience
Click here for topic block 2 – Implementation