Otto Group using webPDF in its in-house Recruiting Suite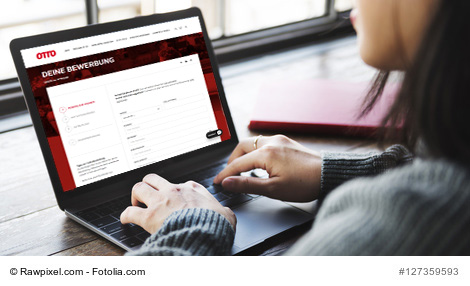 The Otto Group is a globally operating retail and services group with some 52,000 employees and revenues of 14.3 billion euros. With a portfolio of 30 major group companies, it is active in more than 30 countries in Europe, Asia, and North and South America. Online sales of 8.1 billion euros make the Otto Group one of the world's biggest online retailers.
Like so many companies of this size, the Otto Group receives countless job applications every day through its in-house designed and developed Recruiting Suite. On top of that are those additional documents that arise as part of the recruitment and employment process, such as contracts and forms. All of these documents must be securely and reliably converted to and stored in a uniform file format.
Otto Group uses webPDF as a conversion solution for its proprietary Recruiting Suite
Tobias Hauser, the product manager (SAP HR) at the Otto Group, explains how webPDF performs three major functions as a conversion tool within the group.
The primary tasks for which webPDF is employed as part of the Recruiting Suite at the Otto Group:
Convert applicant documents.
Convert other documents within the application process (including barcodes).
Merge all documents into one employment application package.
"The thing our recruiters value the most is the ability to use the employment application package as a mechanism for taking exactly the right documents submitted by the applicant with them to the job interview. They can pick, choose and sort the documents they need and then generate a single, comprehensive PDF file from them. This makes it easier to print them out ahead of the interview and/or take them along in digital form."
Tobias Hauser describing the situation as it was in 2017:
"Long before the Otto Group started using webPDF or had any other sort of conversion system, the managers and executives in their respective divisions and departments had to have several software programs at their fingertips with which they could open each of the application documents in their many different file formats – all of which had to be downloaded and opened individually. Now, however, the webPDF conversion software makes all the required records readily available to leaders in PDF format and viewable directly in our app (no downloading required). The same applies of course for our recruitment mission. This makes work a lot easier in terms of reviewing the documents, while at the same time lending an added measure of security to the workplace computers. We were unaware of the webPDF software solution back in 2017 and only learned about it and SoftVision Development from Fulda during that year's annual conference of the DSAG German-speaking SAP User Group. What we found most exciting was the ability to seamlessly integrate the tool via API within the Recruiting Suite that we developed ourselves."
Tobias Hauser highlighting the five most important benefits that webPDF brings to the Otto Group:
webPDF's benefits as a conversion tool
We get uniform employment application documents that require only a PDF viewer to be viewed on our apps.
Candidates can upload any sort of documents as part of their online application, which are then converted to PDFs. Our solution does not restrict them in any way.
We can merge PDFs as needed.
We also have the option of generating and using barcodes in our work.
The temporary document file feature on our own local WebPDF server performs a virus scan automatically – something that not only significantly enhances security, but is extremely economical as well.
What requirements did webPDF have to fulfill?
"The fundamental and most important requirement was that the tool we were looking for have an API to ensure a smooth connection to our legacy software. Additionally, the conversion process had to be rapid and provide error messages that are understandable. The dependable conversion of Word documents was similarly important to us. We also needed to have our own local hosting (without cloud service) in order to facilitate and ensure compliance with privacy and data protection regulations. At that time, SoftVision with webPDF was the only supplier based in Germany that genuinely fulfilled all our specifications." explained Tobias Hauser.
A very favorable impression following the rollout
"webPDF helps us comply with the provisions of the European Union's General Data Protection Regulation (GDPR) while at the same time enhancing the ease and security with which we handle thousands of documents throughout the recruitment process. We will be counting on webPDF when it comes to future developments as well, one example being the automated processing of email applications," added Tobias Hauser.
"The rollout was remarkably simple and the API is very well documented, which made employing the solution all the easier. We received superb assistance from SoftVision Support both during and prior to the implementation (in our test phase). Their availability was very good and the solutions they proposed got us to our desired goal. There were no problems with the installation on the Windows server and we only needed extra help from SoftVision for the Office Bridge integration. Summing things up, we are proud to say that were are now using webPDF at more than ten subsidiaries in Germany for their applicant management and HR processes."