Converting graphics texts into searchable PDFs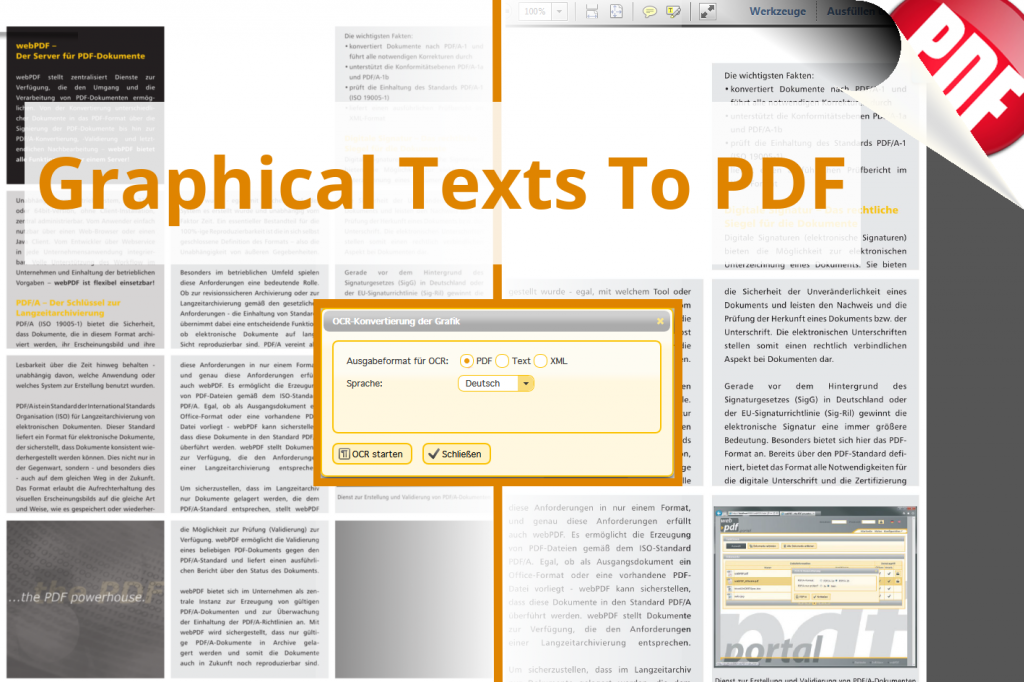 Optical input devices, such as scanners and digital cameras, mostly produce images in the form of raster graphics. Such graphics may well contain texts that your computer alone cannot process as such, especially in light of the fact that it is impossible to edit or search text within such graphics formats as png and jpg.
How to convert text in the form of graphics into searchable PDFs for free using the webPDF portal
The following instructions illustrate how you can use webPDF and optical character recognition (OCR) to convert graphics containing text into PDF format.
You can open and use the webPDF portal here:
https://portal.webpdf.de/webPDF/index.html
(Note: You can change the language by clicking the respective flag in the upper right corner.)
The first step is to click the [

Browse]

button to upload the scanned or digitized document. Please note that a minimum resolution of 200 dpi is required for text recognition.

On the workspace under Functions, click the [

Convert image into PDF document with OCR]

button (underlined in red in the illustration).

 

A new dialog box will open in which you can configure various settings, such as the OCR output format and the language used in the text. In our example a text in German is to be converted to PDF. Click [

Start OCR]

once you have made all the settings.

.

The webPDF server will process your request in no time at all and then provide the resulting PDF document for downloading. To download the file just click the [

Download document]

button (underlined in red in the illustration)

.

 
We invite you to find out more about OCR and the many different file formats that webPDF supports by visiting us here:
http://www.webpdf.de/en/pdf-ocr.html
http://www.webpdf.de/en/supported-file-formats.html
These instructions are also available as a video:
https://www.youtube.com/watch?v=lPSDIIwYgXI