Convert more than 100 file formats to PDF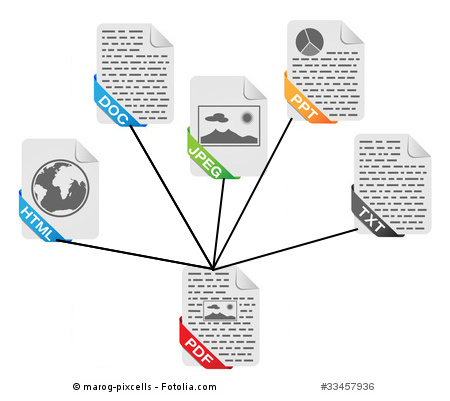 Life in big companies is often plagued by having to deal with and process an enormous number of different file formats. Some formats even require having to install and maintain additional programs in order to work with them. All of this leads to an additional expense and effort that can be easily avoided. One of the best ways to save time and money is by reducing the number of file formats to one, namely the standardized PDF format. And you can do this right now with webPDF from SoftVision.
The webPDF portal lets you convert more than 100 different formats to PDF with just a few clicks. Just go to the webPDF portal and use the [Browse] button to upload the files you wish to convert. (You can try out the webPDF portal free of charge at: https://portal.webpdf.de/webPDF/index.html)
Then click the [Convert document] button (the one with the "Play" icon) located next to the title of the document to be converted. A settings dialog will appear in which you can configure the conversion. Just click the [Apply settings] button if all you need is a simple conversion to PDF.
The server will then process your request in almost no time at all and present the finished PDF document on your workspace, where you can choose to either download it directly (the first button) or further process it using a number of available functions. The different functions buttons allow you to:
Digitally sign the document
Convert the document to PDF/A
Add a watermark to the PDF
Extract content from the PDF
Export the document as an image
Show a preview of the document