webPDF used with SAP at Würth Finance International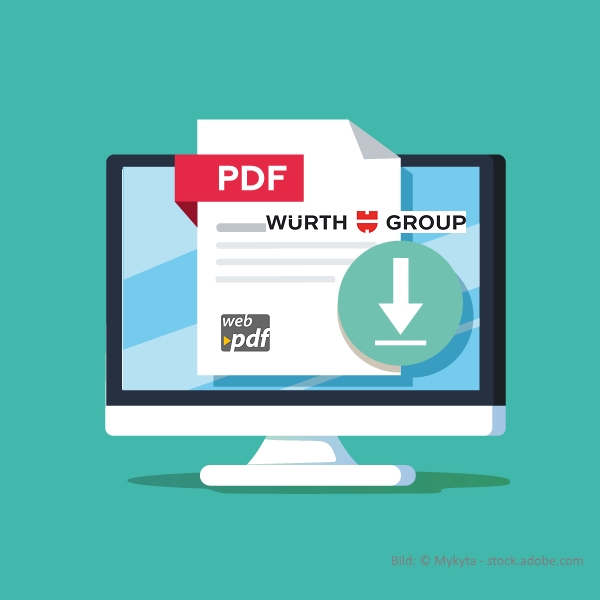 Large companies often employ the webPDF software solution in combination with SAP. A widely used enterprise application software, SAP is ideally suited for handling all the business processes found in larger operations. SAP empowers people to manage their accounting, customer management, and human resources missions quickly and easily.
The following example demonstrates how a combination with our webPDF tool not only helps your business save time, but also makes its processes even more user friendly.
Some companies rely on the help of webPDF to convert and process files (such as emailing or archiving them) directly from within SAP, and with everything automated, users do not even notice the process running in the background. This makes the work a lot easier as you will see in this example from Würth Finance International B.V.
Back in 2017, the company was interested in an additional automated PDF application. It was thanks to a recommendation from XFT, a well-known SAP partner, that a relationship was established with SoftVision Development, which led to the company acquiring its webPDF software.
About the Würth Group and Würth Finance International B.V.
The Würth Group is the world's market leader in its core business of trading in assembly and fastening materials. The group currently consists of more than 400 companies in over 80 countries and a workforce that exceeds 75,000 people, of whom more than 32,000 are permanent, full-time sales representatives.
Würth Finance International B.V. is the central financial company of the Würth Group. With some 60 employees at its headquarters in 's-Hertogenbosch, Netherlands, and branch offices in Rorschach, Switzerland, the company ensures optimum utilization of the Würth Group's financial assets. Key responsibilities include concentrating and optimizing global payment flows, managing financial risks, group financing, investor relations and central supplier credit and payment operations.
What does Würth Finance do with webPDF?
The webPDF application is used to automatically convert Office files to PDF from within SAP and then email them. Here is how Stephan Tanner, the officer responsible for SAP contract lifecycle management at Würth Finance, described the situation prior to introducing webPDF: "Before using webPDF, we first had to convert documents to PDF manually and then distribute them – a major and time-consuming effort considering the volume of business we do. This is why in 2017 we turned our attention towards taking a step in the direction of an automated and integrated PDF conversion solution."
"The most important demand we placed on the software was the ability to seamlessly integrate and operate it in SAP. We found out about SoftVision's webPDF tool thanks to a recommendation by the Walldorf, Germany-based company XFT and a collaboration began shortly thereafter. We have witnessed a major increase in efficiency since introducing the application."
As far as making life easier, Stephan Tanner also pointed out how "The work gets done much faster, especially when, in combination with SAP, you imagine what it was like having to manually convert each and every document – and that on a scale as massive as in our business! The automated webPDF process is a tremendous help for us. The real highlight for me is the application's reliability. The software works flawlessly in combination with SAP and we have encountered no problems of any kind."
How did the webPDF rollout go at Würth Finance?
"Four companies were ultimately involved in implementing webPDF: SoftVision Development from Fulda, XFT from Walldorf, Würth Finance, and our corporate IT service provider. The implementation and rollout went smoothly, despite a few details having to be worked out first due to the involvement of multiple companies. It was an overall positive experience and no user training was needed since the software runs in the background," explained Tanner.
The webPDF user experience
"Another benefit of this software is how users neither notice nor are distracted by what is going on in the background. The fact that almost no support is required simply enhances the user experience. Our contact with SoftVision Development was exceptionally good and we appreciated all the efforts they made and how extremely helpful they were."