webPDF brings the PDF Converter by projekt0708 to completion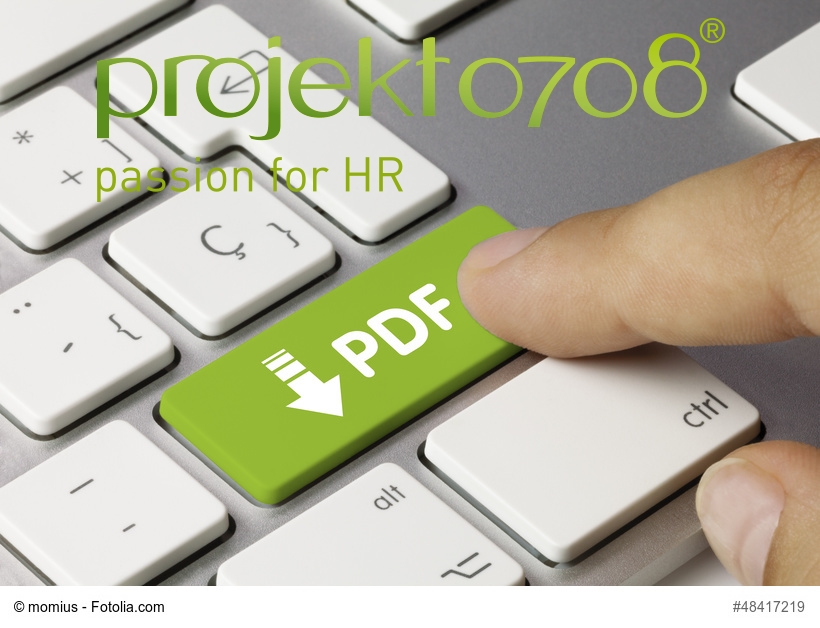 The Munich-based IT consulting and services company projekt0708 GmbH has for years been making a name for itself as an SAP gold partner that develops innovative solutions with a focus on SAP cloud HR software (SAP SuccessFactors). Other products and services offered by projekt0708 include HR concept and process consulting as well as custom-designed software and add-ons. The list of projekt0708's satisfied customers speaks for itself.
PDF Converter for SAP ERP HCM permits classic job application packages for SAP E-Recruiting
You will also find a number of software extensions and add-ons for SAP within projekt0708's extensive HR solutions portfolio. One of them is the PDF Converter by projekt0708, (Information in German) which lets you combine all of a candidate's uploaded documents, such as his or her resume/CV, photo and certificates, into one single PDF file within the applicant management system. The advantage here is that you no longer have to click each individual document to open, print or take further action on them. The PDF Converter creates a classic employment application package in PDF format that contains all of the documents to include the cover letter and a table of contents. The PDF Converter also offers a number of other powerful features such as:
PDF files are updated automatically when changes are made
Incoming applications generally contain attachments in various formats, which can usually be converted to PDF without having to use the respective original software applications
The use of PDF or its PDF/A version provides an ideal means of archiving digital personnel files
What does webPDF do as part of the PDF Converter by projekt0708?
The PDF Converter by projekt0708 acts as an add-on for the SAP E-Recruiting application and superbly rounds out the applicant management system. The webPDF software solution from SoftVision Development helps enable all of the PDF Converter's innovative features in SAP E-Recruiting. Christian Korte (managing director and CIO of projekt0708) describes how the company employs webPDF:
"We use webPDF to implement the conversion of attachments and enclosures within the SAP E-Recruiting application. Our add-on offers a tool that saves all of an applicant's submissions as one single PDF document. The merging of individual documents and the conversion to PDF are accomplished over the web service interface of the integrated webPDF application. Our add-on gives personnel administrators a classic application package at their fingertips whose uniform structure contributes to clarity and in turn lets them work more efficiently. Depending on the configuration, you can also supplement the files generated in this way with a title, photo and table of contents. Using this kind of job application package as part of the applicant management process makes the day-to-day work a lot simpler since you no longer have to click and download each document or enclosure individually, not to mention how printing and forwarding become easier than ever before."
projekt0708 customers benefit from using the integrated web PDF software solution as it gives them capabilities that would otherwise not be possible with the SAP E-Recruiting application alone. Here is how Christian Korte summarized the situation before integrating webPDF:
"Prior to working with our PDF Converter, users had to make do with the standard SAP E-Recruiting tools and click each individual uploaded document and enclosure when reviewing an application. Many of our customers wished there were a tool that would not only streamline and speed up the process, but also help them by reducing repetitive and routine tasks. Thanks to our outstanding access to the market as an SAP partner and implementer of E-Recruiting rollouts, we enjoy direct access to a large number of SAP customers and learn first-hand when there is a need for our standard software solution. webPDF puts us in a position to offer genuine added value to HR practitioners."
Since 2012: SoftVision Development & projekt0708
projekt0708 has been employing solutions from SoftVision Development in Fulda since 2012 after looking for a qualified supplier the classic way by doing research on the internet. A collaboration between the two ensued rather quickly in light of the fact that webPDF was – and still is – considered the industry's market leader for converting to PDF. "Our high standards for quality meant there was no way around webPDF," explained Korte.
"We found that other suppliers' tools place tremendous demands on the system environment and hardware. Many such programs, for example, work with Microsoft Office that has to be running in the background and use Windows as the operating system, which has to be installed on a dedicated server. This often leads to licensing issues, which customers are unaware of at first glance. Many suppliers also work with OpenOffice products as part of the conversion. Our experience shows that the quality of this approach often fails to meet that of the original document, making it unacceptable for our customers. webPDF functions relatively independently of our customers' system environments and delivers the kind of quality that is remarkably good and consistently reliable. SoftVision updates its application continuously and responds rapidly to new or modified file formats. We regularly provide these new features to our customers as an option under our PDF Converter maintenance agreement, which means they are available and ready to use right away."
Support and continued cooperation
Christian Korte's conclusion sheds a very positive light: "We only need SoftVision's support every once in a while, especially in the case of an unsuccessful conversion that cannot be attributed to a defective or password-protected document. We contact SoftVision directly to analyze the cause and work together to eliminate the source of the problem. This sort of exchange is important to SoftVision as well, because we are giving them as the manufacturer feedback that they can use to perfect their software. Currently we are working on a new solution that will make our PDF Converter available on the SAP Cloud Platform, a PaaS developed by SAP. We will be seeing webPDF incorporated there as well."
projekt0708 extensions for the SAP Cloud Platform
In addition to the standard package, you can also implement extensions for SAP cloud HR software. These become necessary when the configuration options are inadequate for making individual modifications or customizations specific to your company. Appropriate applications can be developed on the basis of the SAP Cloud Platform. With projekt0708 and the SAP Cloud Platform, you can use SAP SuccessFactors to give recruiters a central, comprehensive, and interactive view of all candidates and applicants (sorted by date received if desired) and which allows them to initiate and undertake further actions as appropriate. What's more, you can also modify and update the status of the applications from within this cloud solution.
Some good reads: