webPDF at the DMS EXPO – Our conclusion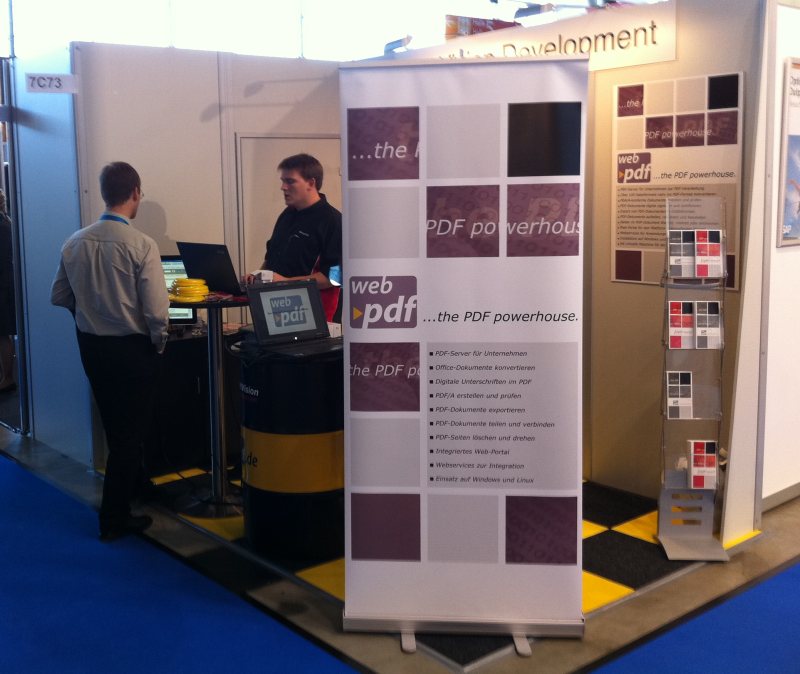 Even though our decision to visit the DMS EXPO with our two products webPDF and n2pdf was quite short notice, we can still look back on three very successful days at the fair – which surprised us more than positively…
…in other words: We weren't just there, we'd love to come back too!
Thanks to the numerous visitors at our booth, the lively interest in our products webPDF and n2pdf, the many interesting conversations and the inviting fair flair, the SoftVision team is more than satisfied with its success at the DMS EXPO 2011.
For the first time, the IT & Business and DMS Expo trade fairs took place in parallel. The aim is to offer visitors to these trade fairs – IT decision-makers and decision-makers from the commercial sector – a dual benefit.
The IT & Business trade fair now taking place for the third time in Stuttgart, focused on production planning and control (PPS), production control and time management/personnel management (MES), planning of corporate resources (ERP), customer relationship management (CRM), business process management (BPM), business analytics (BI), security, IT infrastructure & data centre, cloud computing / rental models (XaaS) and open source.
Even our small "guest gifts" – jojos and frisbees – enjoyed great popularity and were soon the racers in hall 7. Everywhere you could see the blinking jojos. Exhibitors and visitors alike fell for the play instinct, as memories of childhood were awakened.
We would like to thank all visitors of our booth at the DMS EXPO 2011 for the many nice conversations.