Passwords and security settings for your PDF documents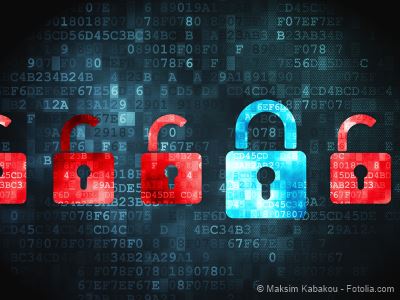 webPDF offers the possibility to password protect PDF documents and to set various security settings.
What does password protection mean for a PDF document?
Depending on the password protection used, the document can no longer be opened or edited without a password. A distinction is made between the main password (owner password) and the user password (also called user/open password).
User password (User/Open password): Right to open and read the document.
Owner password: The owner password can be used to restrict the printing, editing and copying of contents in the PDF file.
Setting password protection in the webPDF portal
First, load your PDF document that you want to password protect into the web portal. After you have loaded your PDF in the web portal, select the PDF file and by clicking on the lock symbol (in the right sidebar) you can make your PDF password settings and protect your document: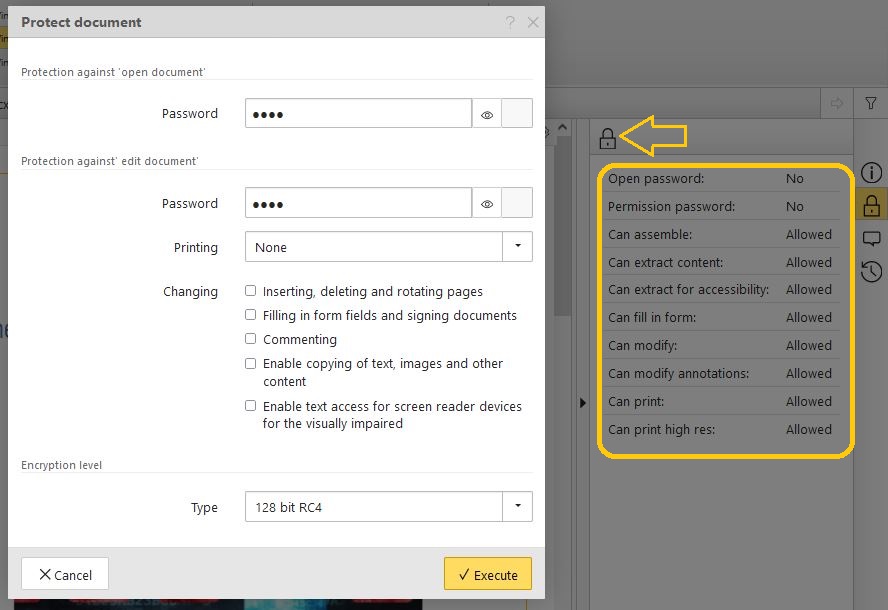 The following setting options (as seen in the next dialogue) are available for this purpose: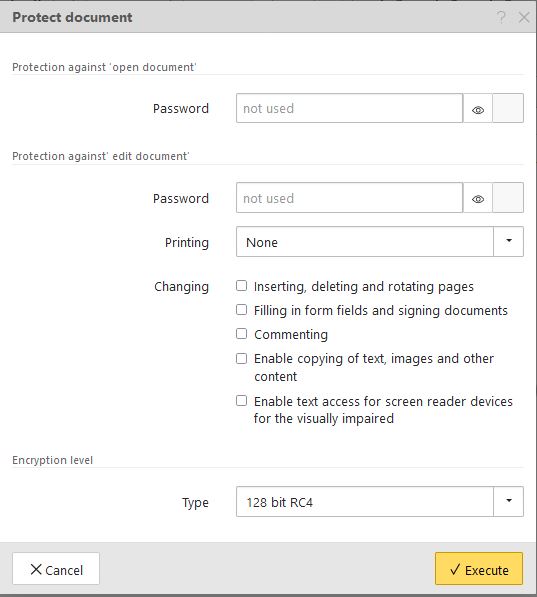 Set your passwords to protect against opening the document (user password) and/or to protect against editing the document (master password):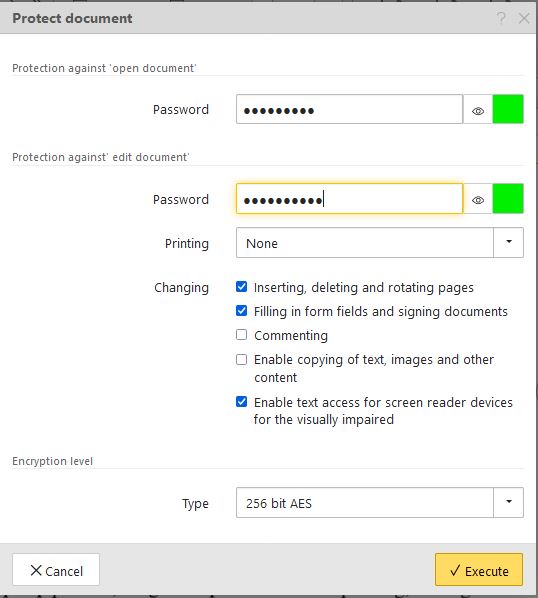 In addition, you can restrict editing and printing options and allow certain changes in the PDF. In the last option, you can select the encryption level for password encryption. It should be noted that the "256-bit AES" method offers the strongest encryption level, but is only supported for Acrobat Version X and newer.
The portal provides an overview of the security settings that have been set. Click on the lock symbol in the right-hand info area (right-hand bar in the webPDF web portal) to find the security settings set for the document: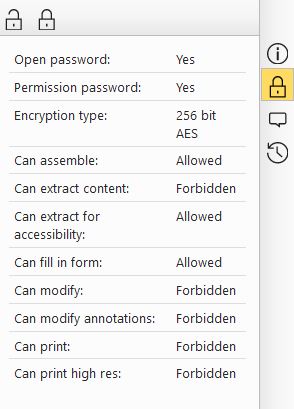 Summary – Adjust Security Settings
With webPDF, the security settings option can be used to set the editing options of a PDF such as "insert/delete/rotate page", "fill in and sign form fields", "comment", "copy content" or "print".
The encryption level defines the encryption method and the encryption strength of the password protection. In the end, a balance must be struck between compatibility and the strength of the encryption method.
Finally, it must be mentioned that real protection is only created in connection with the use of a user password, as the contents of the PDF file are encrypted with the use of the user password. Without the password, the PDF cannot even be read from the outside. Unfortunately, this is not the case when using the main password; here, one is dependent on the respective reader adhering to the specifications. If you use a reader that does not adhere to the specifications, the set main password is unfortunately useless. Therefore, the use of certificates should be pointed out in this context. Certificates do not offer any protection against changes to PDF files, but they do make any changes to the PDF document recognisable and traceable.
More information on PDF passwords and security settings on the website: