Event tip: PDF Days Europe 2022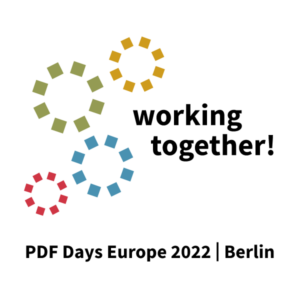 The PDF Association has just announced that PDF Days Europe will take place again in September 2022. As usual, a varied and well-organized program is planned.
The PDF Days will take place in Berlin on September 12 and 13, 2022. As a live event unique to everyone working in the PDF environment, PDF Days will once again bring together many specialists and interested parties.
There will be well-known speakers, but also some new ones. The main program will take place over two days. It has been divided into three "tracks": Experience, Implementation and Core Technology. The introduction will be provided by PDF Association CEO Duff Johnson and PDF evangelist Thomas Zellmann.
What can attendees expect in 2022?
Topics ranging from accessibility to security issues: Following on from PDF Days 2021, which was already able to offer a really good mix and wide range of topics as an event, attendees in 2022 can again expect interesting talks and presentations on the opportunities but also the problems surrounding the PDF format. There will be concrete, practical approaches and also ideas and approaches to solutions will be worked out.
The event is aimed at all PDF developers and experts and offers an opportunity for exchange, can provide new inspiration and also the claim to provide practical tips and advice. PDF experts and technicians are also explicitly recommended to attend the Deep Technical Workshop. Here you have the opportunity to delve even deeper into the subject matter.
Deep Technical Workshop with Peter Wyatt 2022
Led by Peter Wyatt (ISO 32000 Project Leader, PDF Association CTO and DARPA SafeDocs Principal Investigator), the PDF Association's Deep Technical Workshop is a great opportunity for library and application developers, computer scientists and technology researchers to talk in depth with the independent PDF technology expert.
The Deep Technical Workshop will take place in Berlin on September 8 and 9. The venue is the same hotel as PDF Days Europe 2022 on the following Monday and Tuesday, September 12 and 13. Participants should bring laptops.
The workshop is primarily aimed at software developers, software team leaders, technical support staff and other experts responsible for PDF software technologies. Existing knowledge of PDF specifications is also required. Programming skills are assumed: https://www.pdfa.org/agenda/pdf-days-europe-2022-deep-technical-workshop/