webPDF at Infoniqa – a key component of e-recruiting software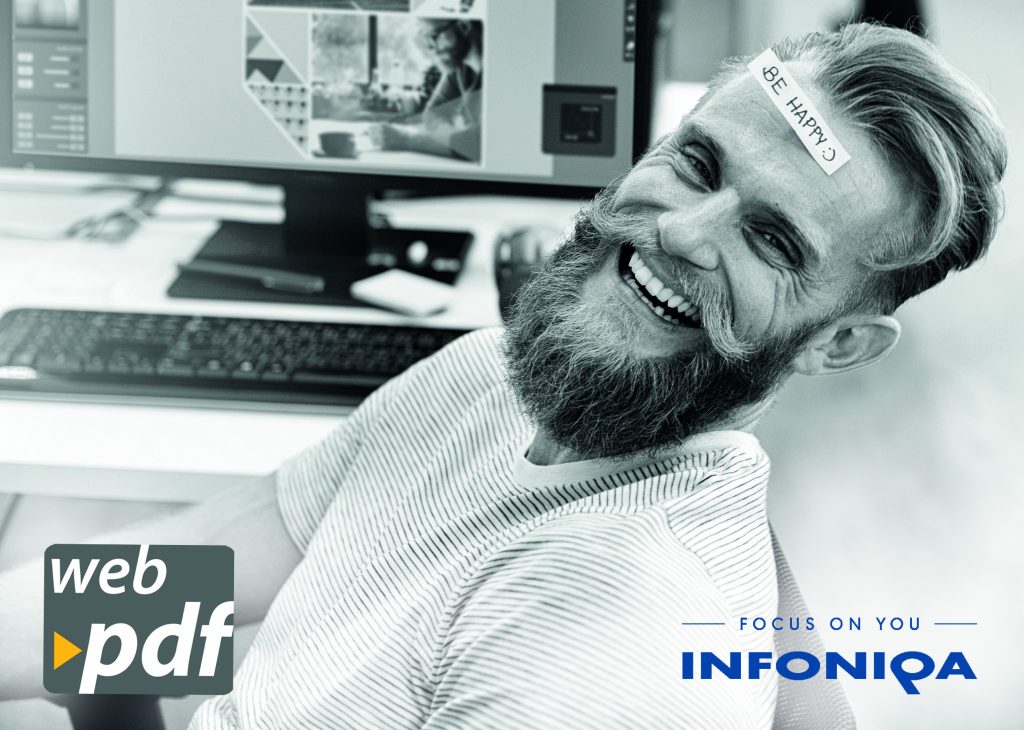 Infoniqa uses webPDF as part of its e-recruiting software to ensure conversions of superb-quality and create candidate application folders in PDF format that you can open with a single click.
Offering such a feature within an applicant management system brings tremendous benefits and is something that has resulted in a highly rewarding relationship with Infoniqa in Thalheim bei Wels (website only in german) and its locations in Germany, Austria and Switzerland. An expert for mobile and online recruiting, Infoniqa has been working together with Fulda-based SoftVision Development for five years. And as a specialist for payroll, time and HCM software, Infoniqa has introduced its modular Infoniqa ONE suite that supports every aspect of human resources related activities from personnel and talent administration all the way to applicant and seminar management.
E-recruiting software from Infoniqa: modular applicant management
Infoniqa offers digital solutions for all functional areas of human resources and has been using webPDF as a system module in implementing its applicant management system since 2015. Infoniqa's software and services have made big impressions on many large and well-known corporations, including Deichmann (footwear), Spar (grocery), XXXLutz (furniture), Würth (fastening materials) and Fressnapf (pet supplies). More than 2 million people in Austria, Germany and Switzerland use Infoniqa solutions at work. You can find a sampling of Infoniqa's listing of customers and references organized by industry and solution here.
When it comes to managing job applicants, Infoniqa truly impresses with its superbly thought-out advertising management system, automated work steps, rapid approval processes and an ideal overview the status of each candidate and the next steps and actions that are required. What's more, Infoniqa also offers a broad recruiting portfolio covering applicant management, job postings, online recruitment (including mobile and social media), reporting and assessments. In addition to a winning candidate experience, it is also worth highlighting how HR personnel can work so easily and conveniently with the applicant self-service portal. You can optimize the design in a number of ways and the submitted resumes and supporting documentation are at your fingertips as one-click applications. These create a huge difference for any HR department by making the work steps faster and more efficient. One-click applications ensure that each of the employment packages candidates submit is available as a single PDF document that can be – as its name implies – opened or printed with a simple click of the mouse. This makes everyone's work a lot easier when dealing with large amounts of incoming applications that include any number of attachments in different formats.
webPDF is a critical piece of Infoniqa's one-click application process
Michael Friedwagner (HCM division manager at Infoniqa) gives this description of how the company utilizes webPDF in two areas:
First, as a conversion tool within the applicant management system. Here webPDF takes all the many documents in differing formats that job candidates submit and turns them into what is called a "one-click application folder" so that you no longer have to open each document individually. Although the conversion takes place in real time, you can still organize them in any order you wish within the folder.
Second, we use webPDF within the actual personnel file itself, particularly when it comes to printing documents and having personnel files in a standardized format. Here again, users can choose the order in which documents appear.
You can see how important a role webPDF plays in our work as a software maker focused on Human Capital Management that supports large companies that run Infoniqa products, which in turn use webPDF as a key component. In this way, webPDF is practically in global use converting countless numbers of submitted employment applications every day. The users themselves are, however, neither aware of nor distracted by the software that is running in the background.
"The relationship with SoftVision Development and the initial testing of webPDF began in 2014 followed by the official launch in 2015, which means that the solution has been in steady productive use at Infoniqa for four years. We have delivered the solution as part of our application management system hundreds of times resulting in its broad international use. We worked with OpenOffice prior to choosing webPDF, a situation that led to two problems: Certain installation requirements had to be met and it was only with great difficulty that were able to monitor OpenOffice as a service, meaning we were unable to catch and correct any errors arising during the conversion process," explained Friedwagner in looking back at the situation before integrating webPDF.
"This was all the more reason why we found the advantages of webPDF to be so compelling:
It can be integrated seamlessly and delivers outstanding performance. Stability during the conversion process was the most important consideration in selecting the supporting software. Another major advantage is its ability to intercept immediately documents that cannot be converted. We evaluated webPDF during the testing phase at one of our customers known for having a high volume of document traffic and the stability was simply sensational!
In summary, the software's biggest benefits are its performance, stability, and ease of installing updates. There were no problems whatsoever with the rollout, which was technically flawless and involved little effort and expense."
Conclusion and a look ahead to the relationship with SoftVision Development
"webPDF has been installed at least 150 times as part of our software and is being used worldwide to convert millions of job applications every year. Something else we find so admirable is how seldom we needed support these past few years (webPDF itself is maintenance free) and when we did, how smoothly it went. Looking ahead, we are giving a lot of thought to the OCR feature, although no specific plans are in place at the moment. The only comment we might add is how pleased we would be to have even more (including personal) contact to give greater depth and strength to an otherwise outstanding partnership."