Partnership with d.vinci – webPDF part of the HR solution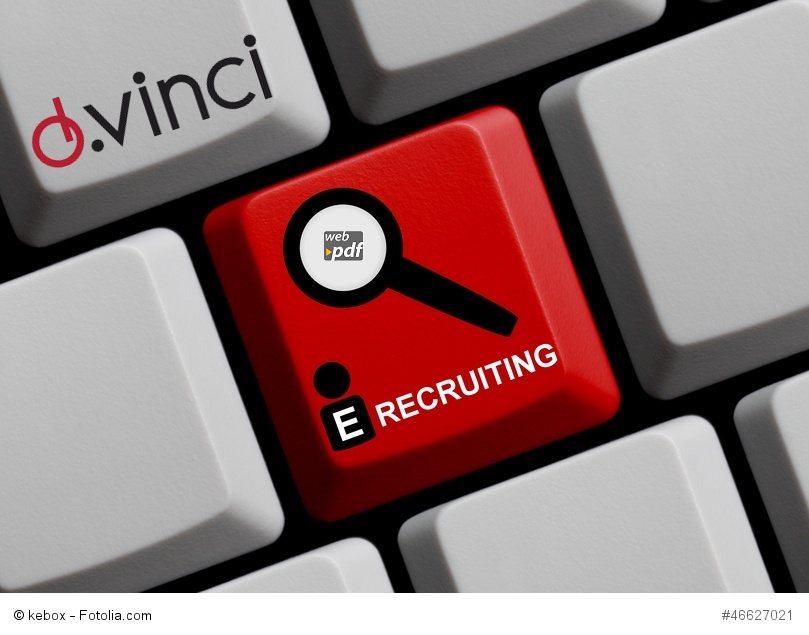 The Hamburg-based company d.vinci has been using the webPDF solution package since 2013. In this case, the application forms an integral component of a software system developed and distributed by the accomplished recruiting experts at d.vinci and is a compelling example of how webPDF can also be employed as a module within a highly successful and effective e-recruitment applicant tracking system.
d.vinci: Innovations in attracting and recruiting talent
An expert for candidate and applicant management, d.vinci focuses primarily on the development of innovative ways of helping its clients attract and recruit the right talent. What began as a one-man operation in 1987 has since grown into an enterprise of 80 dedicated people.
The company's current portfolio covers a broad spectrum from applicant tracking, employer branding, career websites, recruitment outsourcing, onboarding, target-group campaigns, and job publications all the way to human resources consulting. This means that d.vinci can take charge of administering the entire personnel recruitment effort not just for major corporations, but for small and midsized businesses as well. d.vinci can also implement a structured process to familiarize and integrate new employees into the organization, help form a strong and successful employer brand, find exactly the specialists that employers are seeking, design career websites and all the other important social media and SEO/SEA activities, and create and place targeted advertisements for job openings. In its role as an external HR department, d.vinci can perform selected recruiting tasks or manage the entire recruitment effort for its clients. The company is positioned perfectly for providing the very best in applicant tracking and human resources marketing, consulting and recruitment services.
Candidate and applicant management that is professional and well thought-out
A superbly structured recruitment process benefits candidates and HR departments alike. An applicant tracking system with many useful and practical features not only ensures candidates enjoy a positive application experience and an altogether successful start in the new company, but also reduces the HR department's workload and saves time and money. Professional applicant tracking systems also add value by adapting and optimizing any number of related administrative workflows.
But perhaps best of all, the d.vinci applicant tracking software gives clients a concise status overview, valuable insights, and a standardized structure for recruiting talent. Getting started using the system is easy thanks to its intuitive environment, remarkable adaptability, and no need for a lot of training. This applicant tracking system also helps clients put together a highly professional image and presence as an employer, not to mention how it can be used from anywhere and requires no IT installation.
webPDF integrated as a hosted application within an HR solution
webPDF is deployed as a hosted application at d.vinci, which means that its clients use the d.vinci Applicant Tracking System as a cloud solution within which the webPDF software is an integral component. Candidates upload their résumés and other documents in the system and d.vinci then uses webPDF to convert each submission into a PDF file. The company's extensive list of clients shows just how many notable businesses are using the d.vinci Applicant Tracking System and in turn webPDF.
Tobias Tiedgen, managing director at d.vinci, summarized the two advantages that the HR departments of those companies that have deployed the d.vinci Applicant Tracking System enjoy over those that have not:
"Uniformity is a great help to any human resources department. Records are maintained as PDFs in the d.vinci Applicant Tracking System and thus in a standardized format, which eliminates problems opening, converting and printing them.
"The second advantage involves security. Converting files to PDF helps safeguard our clients against the kind of ransomware that often lurks in Word and other files attached to emails. Most importantly, conversion also helps protect applicants' personal information against attacks."
How did the partnership with SoftVision Development from Fulda come about?
"The history begins with the fact that webPDF has been in use at d.vinci since 2013. We started out with a solution that we developed ourselves, but which soon became too maintenance intensive. We then discovered the software developer SoftVision while doing an internet search and decided very quickly in favor of the webPDF product. We then replaced our proprietary application with webPDF, which has been a part of our d.vinci Applicant Tracking System ever since," explained Tiedgen.
"Our expectation at the time SoftVision Development implemented the software was that there would be no problems integrating the product within our existing structure and that personal information would be handled in an absolutely secure manner. In addition, such a software program had, of course, to be robust and reliable. webPDF fully met these requirements and it was on this basis that a rewarding partnership was born. The actual webPDF rollout went off without a hitch thanks to the implementation itself being quite simple and straightforward."
The benefit of SoftVision as supplier: Flexible and adaptable licensing models
Tobias Tiedgen highlighted an additional aspect in conclusion: "Another advantage of our relationship with SoftVision is the fact that we were able to devise a licensing model tailored specifically to our needs. The idea for this emerged some three to four years ago in line with our subsequent acquisition of a large number of new clients. Together with SoftVision we developed a modified and more beneficial billing method (quarterly per client). The individual pricing models that SoftVision offers its customers are yet another reason for what continues to be a highly successful and enduring partnership with SoftVision."
More in-depth information